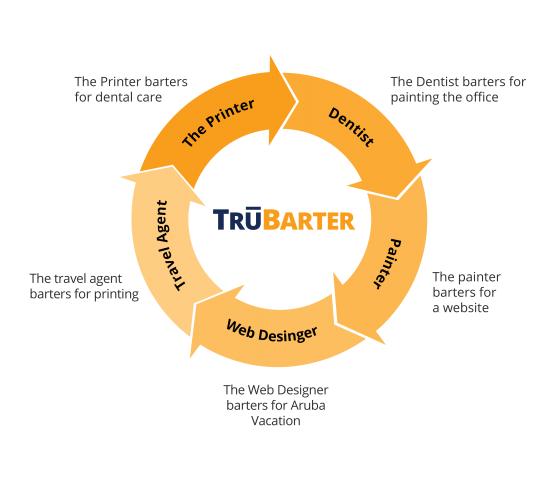 - April 12, 2017 /PressCable/ —
TruBarter, a business-to-business goods and services trade exchange based in Trumbull, Connecticut, has launched. This unique service enables businesses to trade services and commodities on a cashless basis. By using trade credits or TruBarter dollars, companies can leverage their resources, as well as their buying and selling power.
More information is available at http://trubarter.co.
Recently launched, TruBarter allows businesses to trade their goods and services with other firms. But, instead of paying for these, the business on the receiving end uses electronic trade credits, also known as TruBarter Dollars. Companies earn these TruBarter Dollars by selling products and services to other TruBarter members.
Consequently, TruBarter is an extensive network of businesses looking to exchange, rather than purchase goods and services. For instance, let's say a plumbing business needs sign writing on their vehicle but does not have the budget to accommodate the purchase. So, they turn to TruBarter and trade their plumbing services for signwriting using the electronic credits that they've accumulated by offering their services to other businesses in the network.
As a result, TruBarter allows companies to increase leads by maximizing business exposure and word-of-mouth referrals. TruBarter members come from a diversity of industries giving members a greater choice with cash resources retained. Furthermore, the TruBarter app also makes trading-on-the-go easy. The TruBarter trade exchange is offering free membership for a short time, where all sign-up fees are waivered.
A TruBarter spokesperson said, "By trading through the TruBarter Trade Exchange, businesses can save the time and effort of finding others willing to participate in independent trade. Therefore, businesses consult our trade directory and then contact us to find exactly what they need. Our platform operates 24-hours a day, 7-days a week from mobile phones or online."
To find out more about the new Connecticut TruBarter call +1-844-573-4878 or click on the link above.
Release ID: 185025