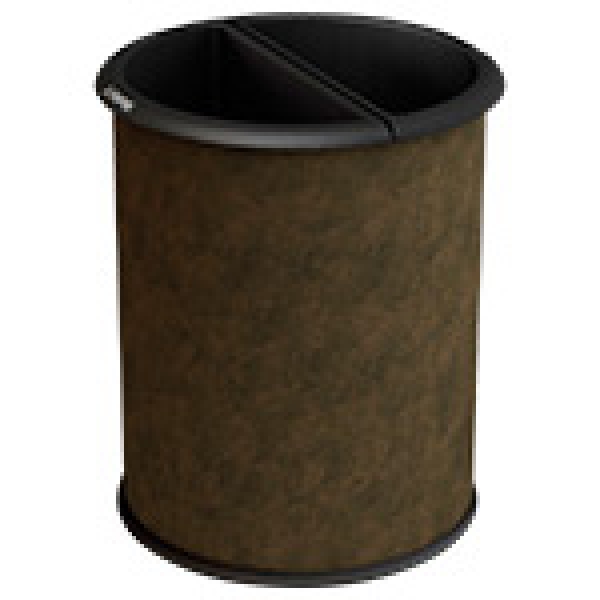 - August 18, 2014 /MarketersMEDIA/ —
Patchogue, United States of America – /PressCable/ —

Long Island – NY –TrashReceptacles.biz is increasing their product offering. Their choice is to add the newest in the InnRoom Recycler model from Commercial Zone's Green Zone Receptacles. These Precision Series recycling trash receptacles are for guest rooms. They are small so they will fit under guest room desks, next to the bed, in the bathroom, almost anywhere. Your guests can separate trash from recycle material right in their room. Hotel managers can say, "These make life easier for our guests and for our housekeeping crew".
When people stay at hotels they often find that they are putting empty bottles and cans in a separate plastic or paper bag and not in the waste paper can that all rooms have. That is why this product is such a good idea. It looks just like a typical trash can but upon closer inspection; it is a two compartment waste/recycle receptacle. It has a capacity of over 2 gallons so it could hold all of your overnight stay debris. Housekeeping staff will also love it because they will not have to separate the mandatory recycle items from the regular throw away garbage.
The decorative vinyl wrap stays attached to the steel receptacle creating an upscale look. It features 2 separate liners for convenient recycling and trash discards right in the guest's room. The InnRoom Recycler is a sleek contemporary way to promote recycling; perfect for hotels, offices, hospitals and many more applications. They are also available in a decorative design or classic smooth stainless steel finish. There is even a decals set included to clearly identify your recycling program requirement. Since recycling and green initiatives are becoming a requirement Futurekits vice-President, Vera Roberts says "if you do not have a recycling program already in effect, we can assist you in setting that up."
For more information on these InnRoom Recycler Receptacles and TrashReceptacles.biz, a Futurekits company, visit www.trashreceptacles.biz.
Contact Info:
Name: Amanda Jasmin
Email: futurekits@optonline.net
Organization: Futurekits Inc.
Website: http://www.trashreceptacles.biz
Phone: 631-803-2511
Address: 626 Taylor Ave. E. Patchogue, NY 11772
Release ID: 59533