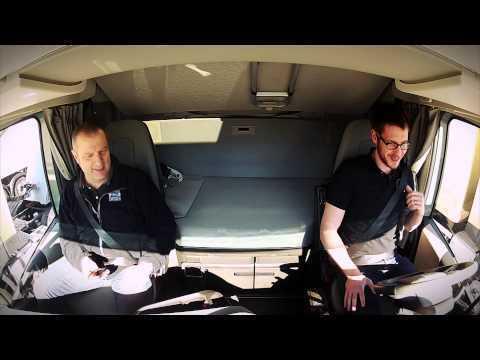 - October 13, 2020 /PressCable/ —
GREENSBORO, NC – Goodwill Industries of Central North Carolina, Inc. (Triad Goodwill) is partnering with TransTech, Inc., of Newton, NC to offer a 4-week long, commercial driver's license (CDL) training program.
Hosted at Triad Goodwill's Greensboro Career Center at 1235 South Eugene Street, Greensboro NC 27406, TransTech, Inc.'s 4-week, full-time training program prepares students for the commercial driver's license exam. Students meet Monday – Friday each week. During the first week of the course, students will meet in a classroom setting, and in the following weeks students will move to the "yard" for skills training. The skills training portion includes 90 degree turns, offset, and straight line back driving. The course culminates with wheel time, which includes daytime driving and state-mandated night-time driving.
The TransTech CDL Training is a more condensed program compared to other training programs in the area, and also staffs both licensed instructors and examiners to conduct the training.
The program's cost is all-inclusive- meaning that the $2,875 cost includes the DOT physical examination and drug screening, as well as the skills exam at the end of the program. TransTech has partnered with multiple agencies, including W.I.O.A., W.R.L.P. and Vocation Rehab programs to provide sponsorship opportunities to students who qualify. Students only need to pay for the driving permit, and license upon passing the exam.
For more information visit: https://www.trans-tech.net/
"We are super excited to be partnered with the Goodwill in the Greensboro area," said Landon Elks, Assistant Director of TransTech, Inc. "We believe it's a win-win for both TransTech and Goodwill. There is an increasing rise in the need for individuals with a Class A license, both with and without experience, and we are happy to help meet that need with Goodwill's help."
TransTech's team works one-on-one with students to assist with job placement opportunities upon completing the training. "We currently have 4 students in the class right now at Triad Goodwill, and 3 of those 4 students have already been offered employment" said Elks.
Those interested in signing up for upcoming classes are able to register by contacting the TransTech recruiting office in Newton, NC at (828) 464-8001. The recruiting team works with students to sign up and will review qualifications for sponsorship opportunities.
About TransTech
TransTech provides top-tier truck driver training and commercial driver's license (CDL) programs. They offer small class sizes which allows for a strong educational experience. Each course is completed in four weeks, so students can be on their way to a professional truck driving career in less than one month. TransTech also provides professional trucking classes in Asheville, Charlotte, Newton, Greenville, Roxboro, Rutherfordton, and Winston-Salem, NC. Additional information for all locations can be found on the TransTech website via the link above. Individuals interested in learning more about TransTech can also call (828) 464-8001 for more information.
Contact Info:
Address: 1261 US Highway 70 Southeast, Hickory, NC 28602
Phone: (828) 464-8001
Release ID: 88980684