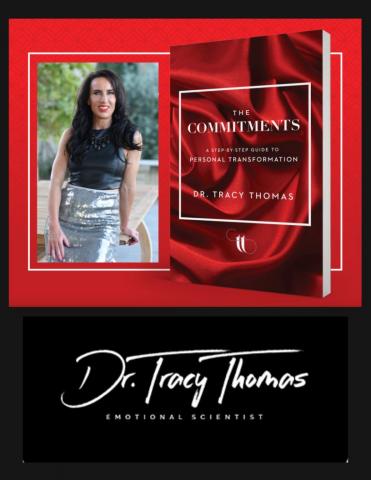 - February 11, 2022 /PressCable/ —
Dr. Tracy Thomas, affectionately known as, "Dr. T." is a Wall Street Journal Best Selling Author and The World's First Emotional Scientist, who specializes in helping highly-driven, Emotionally Sensitive People harness their emotional strength and live an elevated life. She's spent the last 20+ years pioneering the path to success for people with Emotional Sensitivity. As an award-winning psychologist, she's been published in hundreds of media platforms like SHAPE, Women's Health Magazine, Men's Health Magazine, SELF, and Redbook, plus, she's appeared as a media expert on Emotional Sensitivity in outlets such as CBS, Cheddar TV, Redbook, Livestrong and more. She's also been a featured TED Talk guest, speaking on the harmful effects of Emotional Sensitivity and her proven Method for building emotional strength and removing reactivity from your life. When she's not speaking, she works with high-level clients, helping them break free from the devastation of unharnessed Emotional Sensitivity. She believes Emotional Sensitivity is a powerful gift. It opens the flood gates to intuition, intelligence and innovation. And when Emotionally Sensitive People learn how to direct it with drive and intention, they can and do change the world. Which is why, after working with multiple celebrities, executives, leaders and professionals, she's created the only comprehensive, custom program for highly driven Emotionally Sensitive People wanting true emotional elevation. Designed specifically for high-level achievers, she's created a groundbreaking method that goes beyond "coping techniques" and surface-level strategies. It's the path to rapid emotional evolution and growth. You can learn more about Dr. T at DrTracyInc.com where you can book a free consultation to assess your intentional capacity compared to what you'd like it to be, allowing you to get a highly valuable assessment of what it takes for you to become your most intentional self, putting distracting and impacting reactivity in the rear view mirror, and making focus, creativity, productivity and prosperity a way of existing for life. Dr. Tracy just launched her second book, "The Commitments – A Step By Step Guide To Personal Transformation" and is available drtracyinc.com As expected it has become a big hit with fans of the Self Help world.
This is one of 3 books Dr. Thomas has authored. The book was written with the aim in mind to To Help People Transform There Negative Emotions Into Millions . There's also particular excitement about this launch because Dr. T is thrilled that now the high level training that she's been doing with high profile clients for years is now available to anyone who's ready to live their most intentional and most profitable lifestyle. It's all about transforming mental health issues as the catalyst for living more purposefully and productively and making the very thing that feels the most difficult the very thing that is the most lucrative for people when they have the right help. "The Commitments- A Step By Step Guide To Personal Transformation is an incredible resource for those that refuse to live below their potential and are committed to their innovations, their contributions and their legacy of positive impact on the world, instead of being in the therapy office the rest of their lives. This is a about the freedom to do what you love to do and are purposefully here to do and living that life of luxury being your self and receiving the expansive benefits of "The Commitments" now. .
"The Commitments" sets its main focus on transforming anything that you don't want into everything that you do want and doing it with ease. for every moment of intentionality a person lives out, they transform themselves, their families, their communities, and society as a whole. A life of intentionality that each one of our amazing clients creates up levels everyone around then and it's an amazingly productive impact on others just by being your most intentional self. "The Commitments" walks you through exactly how to become the transformative leader that you have always wanted to be. This is a 1000000 % ROI for some of our clients and now "The Commitments" are available to everyone.
Dr. Tracy Thomas is a Wall Street Journal Best Selling Author, an Award-Winning Psychologist, and The World's First Emotional Scientist. She specializes in helping highly-driven, Emotionally Sensitive Leaders to stop reacting, lead with intention, and live out their most elevated life. Dr. T has trained top executives, celebrities, entrepreneurs to transform their emotions into millions, to create their most important innovations, and lead a legacy of intentionality that inspires others to do the same. Her second book, The Commitments- A Step By Step Guide To Personal Transformation skyrocketed to become a Wall Street Journal Best Seller, A Barnes and Noble Best Seller, and an Amazon Best Seller. She has been featured in hundreds of media outlets, including the prestigious TED Talk program, Page Six, Men's Health, Women's Health, Shape, Redbook, CBS, Yahoo Finance, Cheddar TV, and many more. She is the CEO of Dr. Tracy Inc.; a luxury transformation company that does custom transformations for individuals, couples, families and teams.
When asked about why they wrote the book, Dr. Thomas said: "Now is the time to transform your most difficult emotions and your most challenging problems into the greatest fuel for creating solutions, innovations, and contributions that change the world. "
Dr. Tracy Thomas Emotional Scientist intends the book to create a paradigm shift from reactivity to Intentionality and that this emotional transformation for each person that will bring us all into The Age of Intentionality and the infinite possibilities that are available to us. The book was created to be a fashion statement as well. A book that can help you create millions from your worst feelings and also looks great on your coffee table is a gift that keeps on giving.
In a recent interview, the author made a point of thanking The Team At Dr. Tracy Inc. for the collaboration of "The Commitments" that is changing lives and going viral all over the world.
To learn more visit here: Dr. Tracy Inc.
Release ID: 89063788