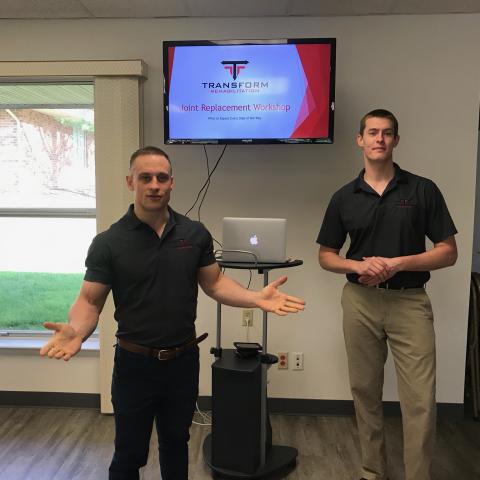 - January 21, 2020 /PressCable/ —
Transform Rehabilitation recently expanded with the opening of a second office located in New Tripoli, Pennsylvania. The new facility opened on September 7, 2019 and now has increased it's staff to accommodate a large increase in clients. Word of mouth and a flood of 5 star reviews online have contributed to their rapid growth.
"We are growing fast to keep up with the demand for services and to expand our physical therapy and wellness outreach in the Lehigh Valley region," says Thomas Fraind, co-founder of Transform Rehabilitation. "We saw a need for a more comprehensive approach to rehabilitation that focuses on helping each individual to achieve and maintain a healthy life."
Transform Rehabilitation locations in the Lehigh Valley offer far more than just basic physical therapy with services to improve health, prevent injuries and lead to a fuller and more rewarding life. Areas of service to patients include physical therapy, sports performance, nutrition, sleep, and general wellness.
"People often think of rehabilitation as just recovery from an injury or illness," says Kyle Lance, co-owner of Transform Rehabilitation, "but we see huge health benefits including injury prevention from a more inclusive view of treatment."
The staff at Transform Rehabilitation consists of highly trained and licensed professionals who provide therapeutic relief from orthopedic and chronic pain or sports injuries. They also treat for ongoing conditions like arthritis, back pain, osteoporosis, neck pain, or even fatigue and dizziness. Preventing loss of balance from dizziness can often prevent more severe injuries from falls or accidents. Often these can lead to a deterioration of posture, a loss of balance and future falls and injuries. Physical therapy can prevent serious accidents and loss of quality of life.
With the growing popularity of sports, both organized and recreational, experts in sports training are available at Transform Rehabilitation for clients who are training for a particular sport or event. Transform offers personalized sports performance training programs to achieve maximum performance results with the absolute minimum risk of injury.
Transform Rehabilitation also has a trained dietician on staff to custom design a nutrition plan that is healthy and appropriate for their level and activity and physical needs. Good nutrition can alleviate problems with vitamin deficiencies and even chronic health issues like arthritis, high cholesterol, high blood pressure, weight control, and eating disorders, especially when combined with proper knowledge, training, and therapy. Diet is a key component whether treating a condition, recovering from an injury or even training for a sport.
An often neglected factor in achieving optimal health is the role of sleep disorders. A good night's rest helps to reduce both muscle fatigue and chronic joint or back pain. Transform Rehabilitation can assess and treat sleep disorders without patients having to undergo an overnight evaluation.
Transform Rehabilitation treats a variety of patients of all ages in their multiple health network locations. They can be reached at 484-387-1065 to schedule appointments at one of their convenient locations in the Lehigh Valley.
Release ID: 88943496