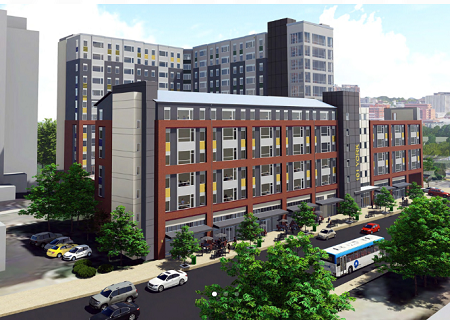 - June 23, 2020 /NewsNetwork/ —
Recent commercial real estate development projects reflect continued vibrancy and growth in the Baltimore metro area. Nowhere is that more apparent than in and around the local colleges and universities, which will have continued need for increased student housing over the next several years.
One such project, the 101 York Student Housing Development in Towson, MD, walking distance from Towson University, is a good example of how local development has stepped up to meet the school's needs while it continues to grow.
Read details about the project and the DMS Development team that launched it here: https://www.dmsdevelopment.com .
Designated by the Maryland Board of Regents as a growth institution, Towson University is the second largest University of Maryland system campus with an enrollment of just under 23,000 students. It's expected that officials will cap total student population at 25,000 by 2024. But in the interim, viable on-campus and off-campus student housing remains in demand.
Students however, are not the only local residents who will benefit from recent development in downtown Towson. DMS Development has invested heavily in the local community over the past several years and designed the project to support more than just the nearby student population. They drew on their wide range of experience in retail and mixed-use projects to plan an environment that will attract and welcome all visitors and residents of downtown Towson.
When the project is completed, 101 YORK will provide 248 apartments ranging from studios to 4-bedroom/4-bath units to meet the needs of 610 students. Along York Road, the buildings will be graduated from five to six levels with 10,000 sq. ft. of retail at street level. Behind the existing 18-story Marriott Hotel, an 11-story residential apartment building that sits on two "above-grade" parking levels will be added.
Two additional levels of parking underground will offer the tenants a total of 495 parking spaces. At one point there was an option for students to park another 150 vehicles in a local garage managed by the Baltimore County Revenue Authority that is within 1,000 ft of walking distance to the apartments. However, community members thought this was too far and the decision was made to add an additional level of parking. Expected completion date of the project is August, 2020.
DMS partner Wendy Crites noted that after more than a decade of planning, designing, coordinating with local residents, neighboring businesses and County and State officials, the project was finally ready and cleared for groundbreaking.
Ms. Crites explains, "Construction began in 2018 after DMS sold the project fully entitled to a very reputable national student housing development and management company, Aspen Heights." One of the key factors supporting Aspen Height's investment decision was DMS' plan to build thousands of square feet of ground-level retail frontage – which translates into significant value for local residents as well as students.
According to Crites, "DMS put a great plan in place and brought the resources together to design and entitle it. The project started in 2003 and when we decided to sell it in 2018, we realized that Aspen Heights had the experience and expertise to manage this large, multifaceted property, and that it would be in great hands. Towson University students and Baltimore County residents both will benefit from their dedication and capability."
Information about all DMS Development services and projects can be found on the company's website: https://dmsdevelopment.com/ .
Release ID: 88964993