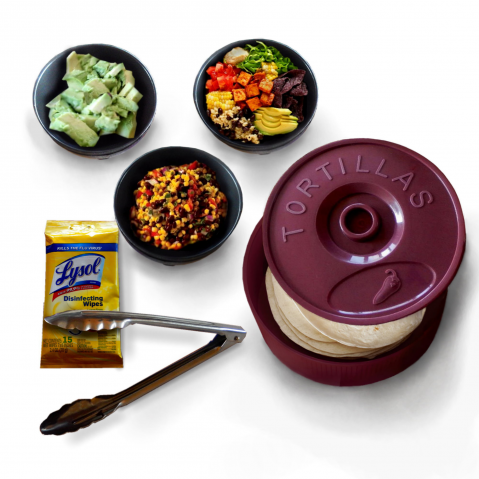 - March 21, 2017 /PressCable/ —
Classic Ambiance, an online home décor and gift store announced the release of its Mexican Fiesta themed gift set. The Tortilla Warmer gift set comprises of a terracotta microwave safe tortilla warmer, three traditional molcajete salsa serving bowls, stainless steel tongs, and a bonus pack of Lysol wipes.
More information is available at https://www.amazon.com/dp/B01KYA06PY
To facilitate the best possible family taco night or Mexican food party, the highly popular Classic Ambiance Tortilla fiesta gift set is ideal for tacos, burritos, fajitas, pancakes, and tortillas. The tortilla warmer is terracotta color, has a decorative lid and measures 8.5 inches wide and 2.75 inches deep. As a food warmer, it can be used in the microwave to warm any type of bread or rolls as well as keeping food fresh and hot.
This premier gift set also comes with three 12 ounce black molcajete style serving bowls to use for chips, sour cream, or guacamole, a set of dishwasher safe stainless steel serving tongs and a convenient pack of Lysol disinfecting wipes with lemon scent for the clean-up.
More information on the fun and complete Tortilla Warmer gift set available for sale on Amazon along with additional details on the tortilla warmer and holder or the molcajete salsa bowls and tongs included can be consulted on the website link provided above or directly through the Classic Ambiance website at http://classicambiance.com
The Hispanic and Mexican cuisine keeps growing in popularity across America with celebrities from Jennifer Aniston to Beyonce revealing their favorite dishes to be Hispanic. Recent research suggests that over 70% of American households now use Mexican food and ingredients on a regular basis, with the most popular being tortillas and taco dinner kits.
The Classic Ambiance team explains that "tortilla warmers are an essential part of family Taco night and a fun tradition for any Mexican themed meal. Our beautiful tortilla holders keep the food warm for up to 1 hour and can be reused for all the family parties and potlucks."
Release ID: 178714