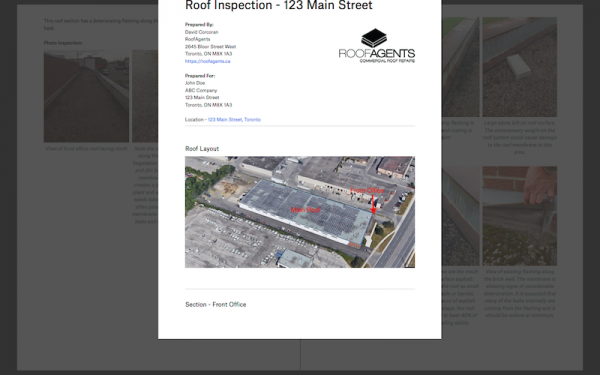 - November 18, 2017 /PressCable/ —
Today, RoofAgents launches its commercial roof maintenance program for property management companies in Toronto. The service is designed to help property management firms manage their commercial and industrial roofing repairs. The roof maintenance program will help property management companies by performing detailed commercial roof inspections and document preventative maintenance items across their facilities.
RoofAgents Owner, David Corcoran states: "through our experience, property management companies are continually looking for help with providing detailed roof condition assessments on their commercial buildings in order to forecast maintenance items. They're main requirement is documented findings including solutions for short, mid and long-term attention. The feedback we here is that this is a challenge to find reliable help to perform roof inspections and more importantly the reporting that property managers require."
RoofAgents have been testing this program with a few select companies in Toronto & Mississauga, and are now officially launching this program to property management companies. The commercial roof maintenance program is expected to provide a full suite of services, including, performing the initial inspection, detailed roof reporting on items of preventive maintenance, and project management services to coordinate onsite repairs.
Corcoran states: "with accurate and detailed information at hand regarding commercial roof repairs, property managers can now properly plan and budget for future maintenance with confidence." RoofAgents expects to integrate their roof and building reports with their client's systems to ensure this information is readily available.
They also stated the overall goal of the program is to provide property management companies with accurate assessments & solutions for maintaining the building's roof. Corcoran implies, "understanding our client's objectives for the building is important and helps us to put together solutions that meet their goals".
The services offered will also include coordination and project oversight for any roofing crews onsite. Corcoran implies, "it's about consistent clear communication and project updates that provide a positive experience for both property managers & onsite tenants".
RoofAgents indicate the recommendation for semi-annual roof inspections as aging buildings in the greater Toronto area are subject to freeze thaw cycles and the stress that this can cause to any roof system. Corcoran states, "we have our own challenges in Ontario with our cyclical climate and the stress that the weather can play on any flat roof. With the winters in constant freeze and thaw cycles this alone places a huge stress on the roof and building in general. Generally, this is why it is recommended for roof inspections to be performed in the Fall and Spring to catch any issues prior or after the Winter.
To start, the roof maintenance program is expected to be available to property management companies throughout Toronto & surrounding areas. For further discussion about this new program, contact RoofAgents here – https://www.roofagents.ca/
Release ID: 266454