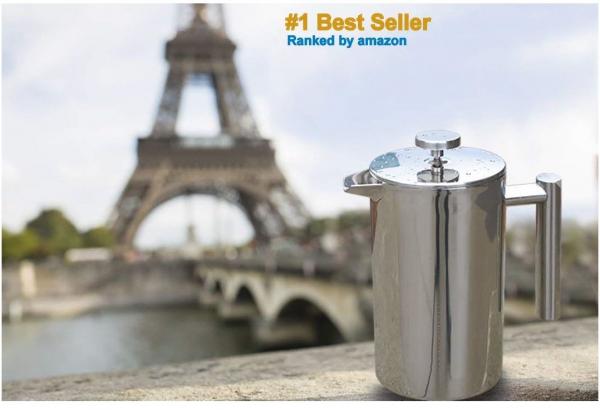 - May 12, 2021 /PressCable/ —
Access Industries, a company based in Toronto, Canada announced the launch of the SterlingPro branded 1.75-litre capacity French press.
More information can be found at https://www.amazon.com/s?k=large+french+press&rh=p_78%3AB014U0ZNG6%2Cssx%3Arelevance
SterlingPro has been known to produce top-quality French presses at affordable prices. The launch of their 1.75-litre capacity double-walled French presses allows customers to brew large batches of coffee every time.
According to the company's executives, there has been a significant increase in the sales of large-capacity French presses in the past year. This increase is credited to the effects of the pandemic with people being forced to stay home and make their coffee.
SterlingPro's large-capacity French presses come in 1-litre, 1.5-litre and 1.75-litre variants. The 1.75-litre option is the largest press in the market and can brew up to 59 ounces of coffee at a time. It uses a signature double-screen system that extracts more oils from the grounds for a richer flavour and guarantees that every coffee granule is filtered out of the brew.
Designed using high-quality surgical-grade 18/10 stainless steel, the press is rust-resistant, durable and dishwasher-safe. It is also engineered with double-walled insulation that keeps coffee hot for hours while the exterior stays cool to the touch.
The French press also doubles as a milk frother. Users can pour the warm milk into the press and operate the plunger for 45 seconds for light frothy milk for cappuccinos, lattes, and more. Additionally, the product can also be used for other beverages such as tea and hot chocolate, or even cold beverage such as iced coffee, lemonade, and more.
According to one satisfied customer, "For a long time, I've been looking for a decent French press coffee maker with a capacity of more than 1.5 litres. Finally, I found this one with a real measured capacity of 1.75 litres. What's more, it's well made, attractive, and is capable of great French press coffee."
Interested parties can visit https://www.amazon.com/s?k=large+french+press&rh=p_78%3AB014U0ZNG6%2Cssx%3Arelevance
Release ID: 89013937