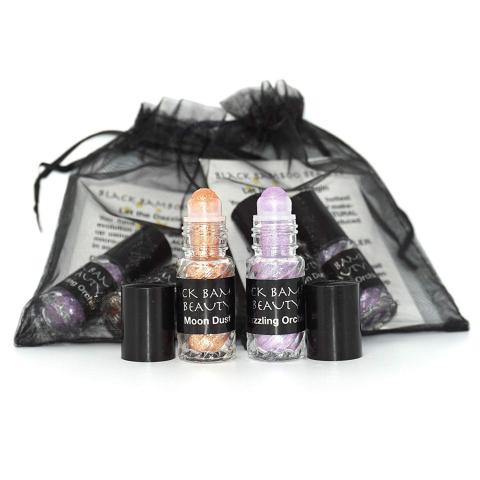 - January 6, 2020 /PressCable/ —
Glitter makeup is on the front pages of top beauty magazine covers, trending fashion and beauty blogs and used by renown makeup artists for Red Carpet runways and has become the first choice cosmetic accent for every celebrity to ensure they look dazzling for their appearances.
Black Bamboo Beauty wanted to provide a high quality, yet completely natural glitter product for everyone, not just the stars. However, after researching glitter manufacturers they found most all use artificial and toxic ingredients, however the available cosmetic grade glitter that use only natural ingredients were bland and lackluster.
After researching dozens of glitter manufacturers the world over, Black Bamboo Beauty developed a glitter product made in the US with only pure and natural minerals, completely hypoallergenic, safe for all skin types and yet has proven to be the MOST DAZZLING OF ALL.
Not a creamy shimmer or a metallic 'chunky' glitter. It isn't shaped like a star or heart. This new ultra-fine glitter is holographic, a 3D effect, each particle giving off an individual sparkle of light.
It has the look of real finely milled gold and adheres to the skin to give off elegant particles of dazzling light. The common reaction to seeing it for the first time is a delighted gasp at the density and sparkle.
Black Bamboo Beauty also noticed that most loose glitter products were hard to control and flew about in the air when applied so they decided to offer their versatile cosmetic glitter in a small and convenient swirled glass roll-on bottle, thus avoiding the mess and waste common with other glitter products.
Black Bamboo Beauty's first offering was a gold glitter called Moon Dust. It became a trusted product due to its amazing and long-lasting sparkle and quickly rose up the Amazon pages to become AMAZON'S CHOICE month after month. BBB followed Moon Dust's success by releasing Dazzling Orchid lilac colored glitter and paired it with Moon Dust in a convenient two-pack.
Another breakthrough from BBB was using their glitter as a lipstick topper to change any lipstick or lip gloss a woman may have on hand into the most beautiful sparkling lipstick on the market. All that needed to be done is roll a bit of glitter onto the back of the hand and tap it lightly on lips to create the holographic, hypnotic sparkling effect catching every possible ray of light. BBB released tutorials on this techinque using their Moon Dust with a matte moisturizing lipstick called 24K.
Used as an eye shadow or with any eyeliner, the glitters add a delicate accent around the eyes, face, cheeks or decolletage, making its user a sparkling WORK OF ART!
Black Bamboo Beauty glitters, glitter body oil and lipstick sets are available on Amazon now. https://www.amazon.com/blackbamboo
Release ID: 88941443