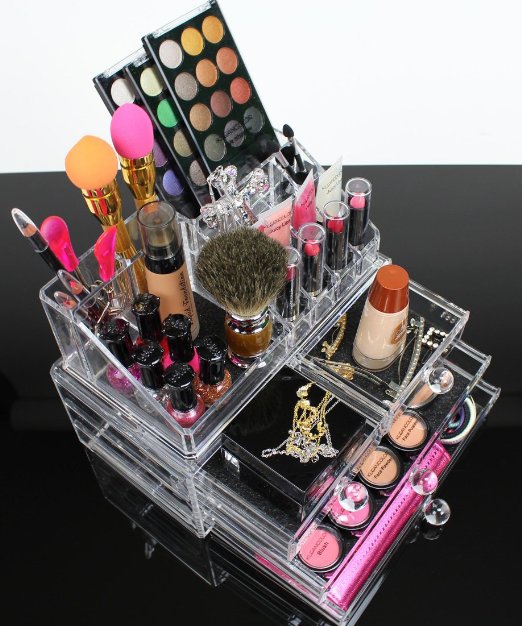 - November 1, 2016 /PressCable/ —
Cosmopolitan Collection has dedicated their research and production efforts to their acrylic makeup organizer. The clear organizer is made of a high-quality acrylic; that is durable and attractive. The attractive appearance, convenience, and quality of the makeup organizer has appealed to both women and men, in the home and professional settings.
"We thought we planned ambitious sales goals for our product and produced numbers according to those predictions. To pass our goals, this early tells me that we weren't thinking big enough from the start" commented Rob Bowser, spokesman for Cosmopolitan Collection. "I have to admit, it is a nice problem to have, but we are working diligently to increasing production to meet the demand of our customers," Bowser added that they company believe the makeup organizer will continue to be a best seller.
Customers love the Cosmopolitan Collection makeup organizer. With over 100 reviews, 96% of customers say they like their acrylic makeup organizer. One satisfied customer wrote, "What a perfect addition to my vanity! I am seriously in love with this cosmetic organizer! First off, I love makeup. Second, I love organization. I'm extremely excited to have this on my vanity and to have things better in order. The organizer feels very sturdy and is made well. For the price, I am completely amazed. Drawers open easy and hold surprisingly more than I expected! Check out the pictures below!
In the pictures, the bottom three drawers are a separate organizer and bought separately, but as you can see, it is compatible with other storage and is stackable and sturdy. Look how much that drawer holds!!!"
The acrylic makeup organizer has two pieces that can be used stacked or separated and contains drawers and compartments for everything from makeup brushes, lipsticks, nail polish and more. As soon as the makeup organizer is back in stock, it will be sold for $29.97, with free shipping available on orders over $49. Cosmopolitan Collection stands behind their product, and any customer who is not completely satisfied with their makeup organizer can return it for a full refund.
About Cosmopolitan Collection: "As an honest and ethical company, Cosmopolitan Collection focuses all energy, resources, and effort to organizing the world in a beautiful way. By creating a single, acrylic makeup organizer, Cosmopolitan Collection works to improve the world by bringing the best quality makeup organizer in the world to market so that all men and women can use and enjoy the product at a reasonable price."
Release ID: 142335