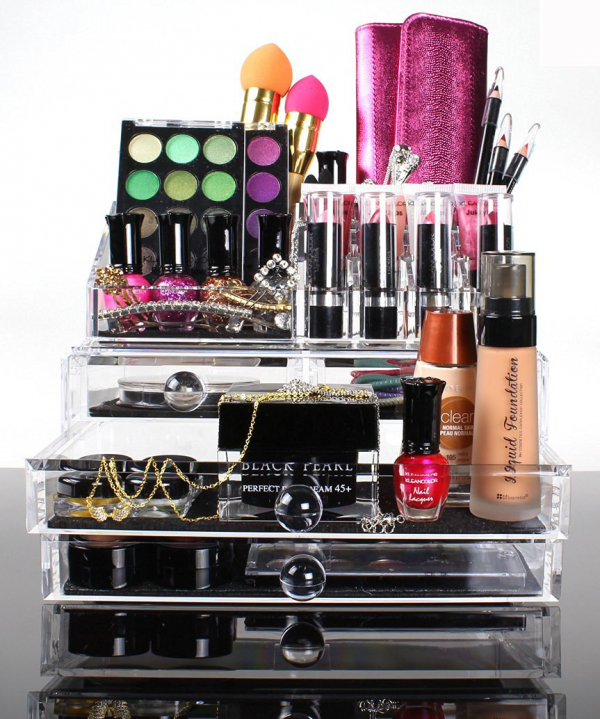 - November 22, 2016 /PressCable/ —
This week, Cosmopolitan Collection announced that plans are in the works for a new website to showcase their top-selling acrylic makeup organizer. Since its launch in February 2015, the makeup organizer has become the exclusive product for Cosmopolitan Collection and ranked the #1 makeup organizer on Amazon.com.
"So far, our sole marketing method has been Amazon.com," said company spokesperson Rob Bowser. "We have seen incredible success with our Amazon sales and developed a very loyal following. So you may be wondering why would choose to launch a website now? Our organizer is unique. The organizer can be used for much more than just makeup. Customers have told us of using it in the kitchen, in the craft room, in the desk, in the workshop for tools. We want a spot to share these ideas and encourage people to think outside of the box and what else our organizer can help them to organize!"
The Cosmopolitan Collection makeup organizer is made of a durable, clear acrylic that is shatterproof, scratch-resistant and easy to clean. The organizer contains four drawers that have handles designed to help them open easily. It has sixteen other compartments of various shapes and sizes, to store a variety of products. The storage unit comes in two pieces that can be stacked as a single piece, or separated into two pieces – depending on the needs of the customer, which allows for additional flexibility.
Over 120 customers have left positive reviews on Amazon.com, where the average review rating is 4.4 out of 5 stars, with 96% of customers state they like their acrylic makeup organizer. One five star reviewer wrote, "I love this, it is sturdy, and the fact that it holds so much and can see everything at a glance is awesome. Since I can't cure my addiction for makeup, I will be ordering another one in the near future."
The makeup organizer by Cosmopolitan Collection is sold exclusively on Amazon.com and is currently priced at $39.99. Amazon.com offers free shipping on any purchase over $49. For more information on the Cosmopolitan Collection organizer visit Amazon.com.
About Cosmopolitan Collection: "As an honest and ethical company, Cosmopolitan Collection focuses all energy, resources, and effort to organizing the world in a beautiful way. By creating a single, acrylic makeup organizer, Cosmopolitan Collection works to improve the world by bringing the best quality makeup organizer in the world to market so that all men and women can use and enjoy the product at a reasonable price."
Release ID: 148423