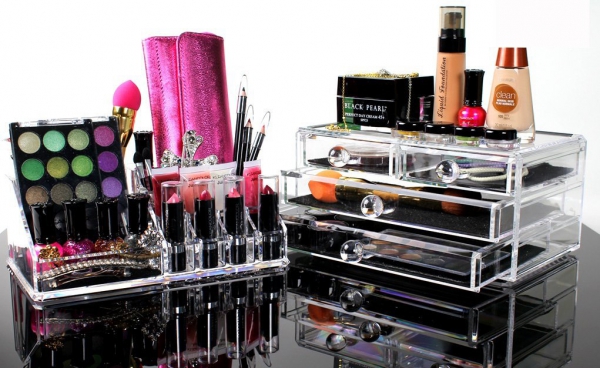 - October 28, 2016 /PressCable/ —
The makeup organizer by Cosmopolitan Collection is made of a durable, acrylic resin that is shatterproof, which makes it a perfect addition to homes with small children. In addition to being shatterproof, the makeup organizer is waterproof, scratch resistant and easy to wash….the type of thing parents of children need in their homes.
"Our acrylic is the same material that holds back millions of gallons of water in aquariums," said Cosmopolitan Collection spokesman Rob Bowser, "It wasn't the least expensive material for us to use, but we knew it was best for our customers."
The makeup organizer can be used by men and women of all ages. It includes four drawers that have round handles for easy opening, as well as 16 other compartments that are perfect for holding lipsticks, nail polish or makeup brushes. The organizer is two separate pieces that can be stacked or separated so that the best use can be customized for each customer.
Over 150 customers have reviewed the Cosmopolitan Collection makeup organizer. The average review rating is a 4.5 out of 5 stars, with 98% of customers stating they liked their makeup organizer. One satisfied customer wrote, "I'm in love with this acrylic cosmetic and makeup organizer. It is a perfect size to fit on my dresser in front of my hair product box. Its the perfect size to fit your everyday makeup in the little top drawer I was able to fit my tweezers and eyebrow shapeup razors. Next drawer I was able to fit a few other small things such as oil pad wipes. The next two drawers are a good size for eye liner pencils and mascara as well as little eyeshadow pallettes. And on the top part (detaches from the drawers) can fit 12 lipsticks and other odds and ends. This really helped me organize some of my make up as I have a bunch of it. The organizer is made of very durable acrylic material and not flimsy at all. The measurements are true to size. There are many things I like about it, especially I can pick out something without digging through different containers."
Cosmopolitan Collection sells their acrylic makeup storage unit exclusively on Amazon.com. The organizer is currently on sale for $29.97, with free shipping available on all orders over $49. Cosmopolitan Collection offers a money-back guarantee. If a customer is not happy with their makeup organizer, it can be returned for a refund of the purchase price.
About Cosmopolitan Collection: "As an honest and ethical company, Cosmopolitan Collection focuses all energy, resources, and effort to organizing the world in a beautiful way. By creating a single, acrylic makeup organizer, Cosmopolitan Collection works to improve the world by bringing the best quality makeup organizer in the world to market so that all men and women can use and enjoy the product at a reasonable price."
Release ID: 141802