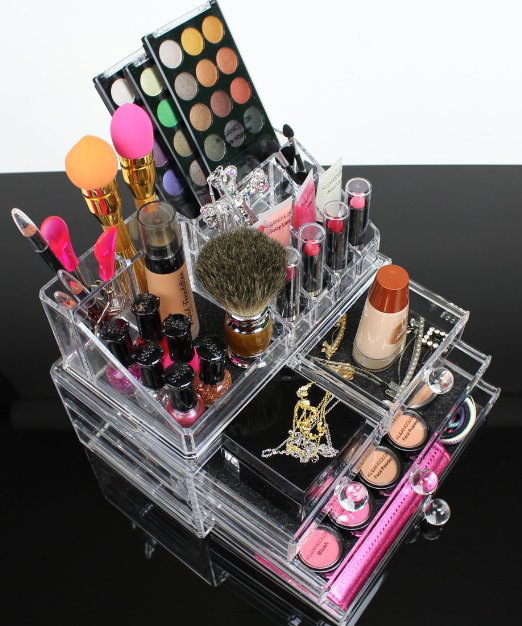 - December 7, 2016 /PressCable/ —
A spokesperson for Cosmopolitan Collection issued a statement this week explaining that their acrylic makeup organizer is safe for use in homes with small children or pets.
Cosmopolitan Collection is the maker of the #1 makeup organizer on Amazon.com. This week, company spokesperson Rob Bowser issued a statement explaining in what ways the organizer is safe for use in homes with small children and pets. "We spent a considerable amount of time in the research and development of our Amazon cosmetic organizer. The acrylic we use for the organizer is durable, shatterproof and free from harmful chemicals. You may wonder why it is important for a makeup organizer to not have toxic chemicals. First, these chemicals can leak into surrounding items or the objects stored in the organizer. Also, with small children and pets, you never know what is going to happen. We have had customer contact us, concerned that their puppy got ahold of the organizer and used it as a chew toy. The durability of the organizer made it, so the unit did not easily break into small, chokable pieces and the owner could be comforted in knowing that their puppy was not exposed to harmful chemicals."
Over 125 positive reviews have been received for the organizer, and people have commented about the ease of use, flexibility and how the organizer helps them to find all of their makeup products, placing them within easy reach. Sold exclusively on Amazon.com, the acrylic makeup organizer by Cosmopolitan Collection is currently priced at $29.99, with free shipping offered on purchases over $49.
About Cosmopolitan Collection: "As an honest and ethical company, Cosmopolitan Collection focuses all energy, resources, and effort to organizing the world in a beautiful way. By creating a single, acrylic makeup organizer, Cosmopolitan Collection works to improve the world by bringing the best quality makeup organizer in the world to market so that all men and women can use and enjoy the product at a reasonable price."
Release ID: 152287