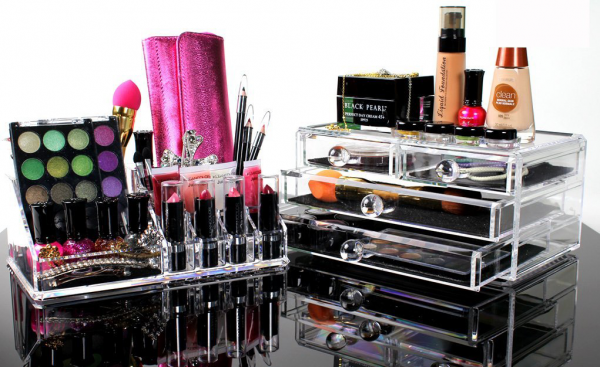 - January 10, 2017 /PressCable/ —
It has been two years since Cosmopolitan Collection launched their cosmetic organizer. Since that time, sales and popularity of the organizer have continued to increase, as have loyal customers.
"It is hard to believe it has been two years since the launch of our cosmetic organizer," said Cosmopolitan Collection spokesperson Rob Bowser. "We knew that we had made a quality piece, but were unsure about customer response. Our sales have continued to increase, and this year we have set new sales records. More importantly, customers continue to be excited about our organizer, and just today we received another five-star review."
Since the Cosmopolitan Collection organizer is sold exclusively on Amazon.com, customer feedback and input is vital. To date, over 175 customers have taken the time to write a review of the organizer, with 97% of customers saying they liked their Cosmopolitan Collection organizer. This week, a verified purchaser of the cosmetic organizer wrote a five-star review and said "This was a Christmas gift for my teenage daughter, who is a professional makeup artist and needs the best tools for her trade. When she opened this gift, she abandoned her family and quickly took off to her room to organize her million dollar makeup collection. Was a big hit, highly recommended."
The Cosmopolitan Collection organizer is made of an acrylic resin that is durable, shatterproof and easy to clean. The organizer is see-through, which makes it easy to see where all of the makeup products are stored. Designed to keep all the necessary makeup products at the fingertips of busy men and women, the cosmetic organizer has a series of drawers and compartments built into two pieces. These pieces can be stacked into a single unit or used separately. This provides maximum flexibility to the customer.
For a limited time, the Cosmopolitan Collection cosmetic organizer is priced at $42.99.
About Cosmopolitan Collection: "As an honest and ethical company, Cosmopolitan Collection focuses all energy, resources, and effort to organizing the world in a beautiful way. By creating a single, acrylic makeup organizer, Cosmopolitan Collection works to improve the world by bringing the best quality makeup organizer in the world to market so that all men and women can use and enjoy the product at a reasonable price."
Release ID: 160139