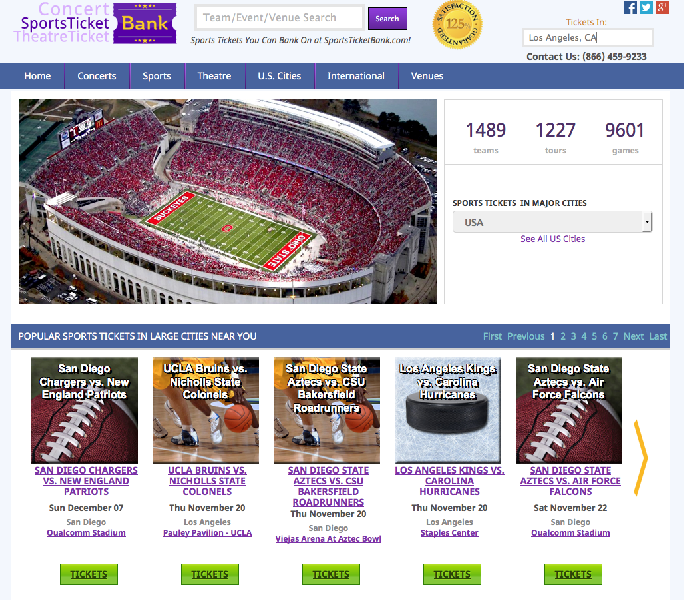 - November 20, 2014 /PressCable/ —
Los Angeles, CA November 19, 2014. This weekend is a banner one for college football lovers. Week 13 in the NCAA 2014 football schedule includes three hot rivalries that are must-sees for fans. From a top cross-town rivalry to late-season Big Ten game, these are three games which promise lots of action and entertainment, not to mention at least one game that could play a deciding factor in which team makes it to the playoffs. 
USC at UCLA, Nov. 22 This cross-town rivalry might end up deciding the Pac-12 South. No matter what, the winners will walk off with bragging rights in Los Angeles. The USC-UCLA rivalry has been called the greatest college sports rivalry in college football. Both schools rank among the top sports programs in the country, and collectively account for more than 200 NCAA championship titles among all of their collegiate level sports. The competition between the two schools is hot, and it reaches fever pitch this late in the college football season. 
This weekend, the Bruins will be hosting the Trojans at the Rose Bowl, and it's generally seen as one of the top games of the entire season. Making it even hotter are the two teams rankings in the PAC-12 South division: USC is leading the pack, but UCLA is right behind them in second place, well within striking distance for the PAC-12 top spot. While the Bruins have taken the win the last two times these teams met, sports pundits are pointing to USC's improved offense and suggesting that a UCLA win this weekend is far from a sure thing. 
Oklahoma State at Baylor, Nov. 22: The OK State Cowboys take on the Baylor Bears in a game that pits two great offensive teams against each other, and both teams are facing high stakes. The Oklahoma State Cowboys started this season with high hopes, but their last four weeks have essentially tanked them. They're going up against the high-flying Baylor Bears, who are fresh off a bye week and two major victories in the preceding weeks. 
The Cowboys need this win to remain eligible for a Bowl game this year, and they'd love to play spoiler and end Baylor's 4-game blowout winning streak. There's no missing the impact of the record between the two teams OK State has taken 16 of their last 18 meetings, and they're primed to make it 17 of 19. 
Wisconsin at Iowa, Nov. 22: This long-standing rivalry promises some great football action for diehard fans, and will decide the home of the Heartland Trophy for the next year.Seriously, when it comes to rivalries, it doesn't get any better than the one between the Iowa Hawkeyes and the Wisconsin Badgers. 
The two teams have been meeting head-to-head since 1894, and since 2004, the winner of their annual game has taken home the Heartland Trophy, a brass bull that has resided in Iowa since 2010. This Saturday's game will mark Iowa's first showdown against a Top 25 team and to make it even more fun, they're going up against a team that's flying high after running back Melvin Gordon shattered the FBS record by rushing 216 yards against the Nebraska Cornhuskers last week. 
Tickets to all three games are available at online ticket seller SportsTicketBank.com, where fans can buy tickets to all the big matchups in the American and National football league and all the college level sports. With thousands of great seats and games available, sports fans can always find tickets for any of the games they want to see, and with 125% ticket guarantee who wouldn't want to go and cheer on their favorite teams!
Release ID: 68731