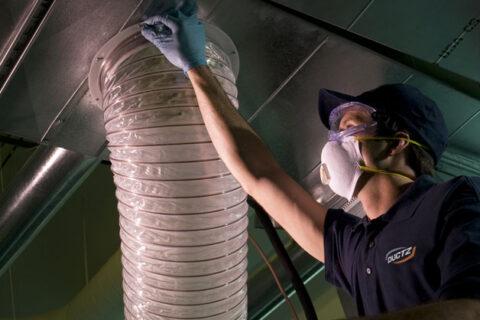 - February 21, 2022 /NewsNetwork/ —
With the new update, the team of trained technicians at DUCTZ are able to provide customers with cleaning services that cover the entire HVAC system.
More information is available at
https://www.ductz.com/monmouth-central-nj
Customers in Toms River, as well as surrounding Monmouth and Ocean County areas, can now get in touch with the company to schedule a cleaning for their residential and commercial HVAC systems.
As the spring and summer months approach, ensuring air-conditioning systems are cleaned is vital to make sure they are working to their maximum potential. Furthermore, while many companies offer air duct cleaning, having the entire HVAC system thoroughly checked and cleaned ensures they can provide the best air quality for homes and business premises. DUCTZ offers comprehensive cleaning solutions for all HVAC system components.
To make sure systems are working efficiently, the New Jersey company's trained technicians clean the air ducts, blowers, fans, registers, and coils of an HVAC system. This full-service not only improves the overall air quality by removing allergens, but also reduces the risk of fires and other hazards.
The company's team also uses industry-leading techniques and processes alongside high-quality tools, machinery, and supplies for efficient and long-lasting results. Their methods cover over 120 individual tasks that ensure that each and every aspect of a system is considered, checked, and cleaned prior to completion.
Clients with both residential and commercial properties can get custom services that meet their individual needs, such as systems with multiple ducts or requiring additional microbial control. The company is also able to provide specialized services for HVAC systems that are in need of restoration following past fire or water damage.
Based in Wall Township, DUCTZ currently serves clients across the areas of New Jersey, which sees them cover communities in Howell, Deal, Marlboro, as well as their recent expansion into Toms River.
During the current pandemic, the cleaning company has also implemented a range of additional measures and guidelines to protect both their customers and their employees from the spread of infection.
A recent client of the company said, "They did a wonderful job. They were on time, efficient, and truly cared about safety."
Interested parties can find more information by visiting
https://www.ductz.com/monmouth-central-nj
or call 732.256.9194
Release ID: 89065142