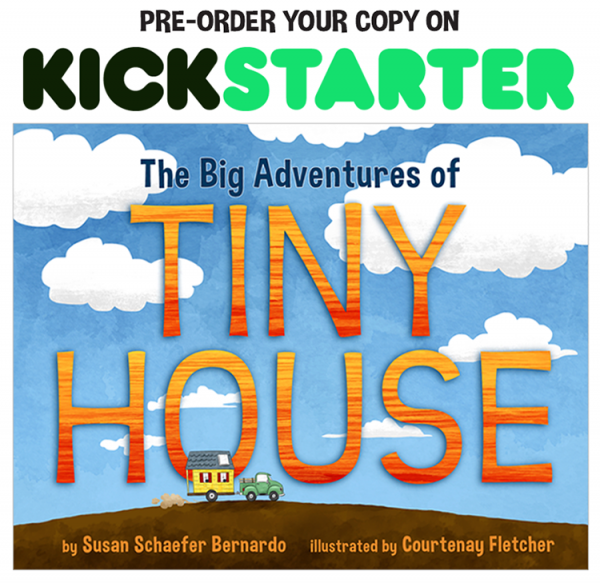 - September 25, 2016 /PressCable/ —
It's a craze that's sweeping the nation—tiny house living. The airwaves are buzzing with documentaries, several popular tv shows, and even a Portlandia spoof based on the idea of living large in a very small space. It was only a matter of time before the tiny house movement inspired a book for tiny tots.
The Big Adventures of Tiny House is a new children's book project that went live on Kickstarter last week. It's the story of an old farmhouse that gets recycled into Tiny, a little house on wheels who sets off on a big adventure to discover the true meaning of home.
"Tiny House living is about freedom, creativity and sustainable living," comments author Susan Schaefer Bernardo. "Tiny house people are optimistic, curious, resilient and open to life's adventures. We wanted to capture that spirit in a children's book."
Hitched to the back of his friend Big Truck, Tiny takes readers on a journey that stretches from the Rockies to the Redwoods, from a parade in New Orleans to the majestic Grand Canyon. Along the way, Tiny makes new friends (including an Airstream trailer, a schoolie bus conversion and a houseboat) and learns important lessons about what it takes to make it home.
This is Bernardo's third book. She and her illustrating partner Courtenay Fletcher created their first book together in 2012, a lyrical picture book for kids called Sun Kisses, Moon Hugs. That led to a grand adventure of their own: an award-winning collaboration with actor LeVar Burton of Reading Rainbow on The Rhino Who Swallowed a Storm, a picture book to help kids cope with trauma. Rhino has been read aloud by First Lady Michelle Obama and last December, was sent via rocket to the International Space Station for the Storytime from Space program.
Bernardo gave a preview reading of The Big Adventures of Tiny House this summer at the Tiny House Jamboree in Colorado Springs – an annual event that draws 50,000 tiny house enthusiasts and exhibitors. The story hit home with the crowd.
"The Big Adventures of Tiny House is a story of adventure and community, and most importantly a fresh take on the meaning of home. Susan beautifully captures the spirit of the tiny house movement— a pioneering lifestyle centered around meaningful experiences and friendships. This is sure to become a classic, beloved by tiny house enthusiasts of all ages," commented Alexis Stephens of Tiny House Expedition, whose DIY home built with salvaged materials ignited Bernardo's imagination and directly inspired the book.
The Big Adventures of Tiny House is a little book with a very big heart: the creators seek to open a dialogue on sustainable living while entertaining young readers. They are also donating a portion of book sales to Makes a Village, a new organization building affordable housing for people facing homelessness.
Bernardo and Fletcher have some creative rewards available on their Kickstarter campaign, including getting a pet or house turned into an illustrated character in the book. The project is well on its way to successful crowdfunding, but people can still participate and secure an advance copy of the book until October 19th.
Find more information and downloadable coloring pages on their website www.TheBigAdventuresofTinyHouse.com.
Release ID: 134280