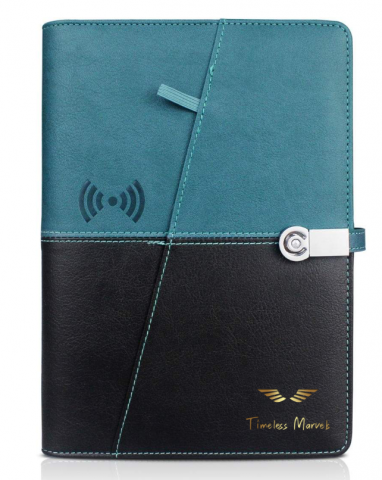 - June 22, 2021 /PressCable/ —
Customers looking for the latest Erasable Notebook will soon be able to purchase Erasable Power Bank Smart Notebook with Cloud Storage & Wireless Charger by Timeless Marvels. Today, David Banks, Product Development Manager at Timeless Marvels releases details of Timeless Marvels, Erasable Power Bank Smart Notebook's development. Timeless Marvels, Erasable Power Bank Smart Notebook is designed to appeal specifically to Tech Savvy People of all ages, and includes:
Erasable Notebook Pages – This feature was included because Notebooks are essential writing instruments and drawing/sketching, creating diagrams and writing thoughts take many re-takes and redundant efforts with each new version being more enhanced than previous one, but these efforts also waste paper or do not allow user to save previous work in editable form and often make them start from the scratch again. To save all the above-mentioned hassles, this smart notebook is created with stone paper which is rewritable and erasable for more than 500 times. This is great news for the consumer as 100 Erasable pages make notes taking fun and provide efficiency to hand drawing/sketching and writing when user can erase all or partial data with moisture or heat. These pages save environment, and when used with cloud storage feature, they omit the need to edit, save or store pages manually. Users can take along their work securely, privately, and portably.
Built-in Power Bank – This was made part of the product, since with the growing number of mobile devices and charging needs it was only practical to design a smart solution which works for all users and gives them which they all need in one smartly designed notebook. Customers who buy Timeless Marvels, Erasable Power Bank Smart Notebook should enjoy this feature because for on-the-go users, Power Bank is an essential necessity and with the built-in 8000mAh a user can charge all on-the-go devices and can even charge the cell phone wirelessly while traveling. They can continue working on their tasks work without thinking about phone or laptop running out of charge while working on an important sketch or presentation.
Cloud Data Storage & USB Storage – Timeless Marvels made sure to make this part of the Erasable Notebook's development as with any creative work there is a need to edit, enhance, save, enhance some more and share with others and these tasks usually require a PC or laptop and a whole setup which is time consuming, less efficient and not so practical when users are on the go. Timeless Marvels decided to solve these issues and made sure a user can take the notes and data to the higher level via app edit capability. They can save or share their notes with their teammates while working on more exciting creatives. Customers will likely appreciate this because this Smart Notebook offers Cloud data storage via free app which can be downloaded on the phone from Apple store or Google Play Store (for Android phones) and makes saving documents and data easy to share with others. While cloud storage app can help users with their phone's data, there is another solution which is 16GB USB drive included with this notebook. With combination of both storage solutions users can save all creative ideas on the cloud, keep important files handy in the USB drive and continue creating new ideas on the erasable notebook. It's a great technology which allows seamless functionality and higher level of productivity helping students, writers, artists and people from all areas of life reaching their goals faster.
David Banks, when asked about Timeless Marvels, Erasable Power Bank Smart Notebook with Cloud Storage & Wireless Charger said:
"Timeless Marvels, Erasable Power Bank Notebook is the most desirable tech-gadget today with erasable pages which can be wiped clean, or heat erased and re-used for over 500 times. Notes' data can be saved in the included 16GB USB drive or can be saved, shared, edited, and organized via Cloud App. Built-in Power Bank keeps users' phone and all other accessories charged with 8000mAh wirelessly! Sleek dual-toned leather styling creates a great first impression in the meetings and overall Timeless Marvels Smart notebook is the most sought-after gift for 2021-2022 and with being environmentally friendly, it is a great all-in-one solution for users on the go."
This is Timeless Marvels' First release of a new product and David Banks is particularly excited about this release because it is truly a one-of-a-kind Smart Notebook on which user can create their plans and drawings, save and edit those instantly on cloud storage or USB drive, erase and re-write notes and share from cloud storage to their computer or with their teammates while charging their cell phone and other devices from the same notebook thanks to this amazing technological marvel with a smart design which everyone is raving about. This notebook is something truly to be excited about because it is the future of the writing and provides users convenience and ease while saving time and saving our beautiful planet.
Those interested in learning more about the business can do so on the business website at https://healthycarrot.com
Those interested in purchasing can go directly to the product listing, here: https://www.healthycarrot.net/products/timeless-marvels-erasable-power-bank-notebook-with-usb-cloud-storage
Release ID: 89029689