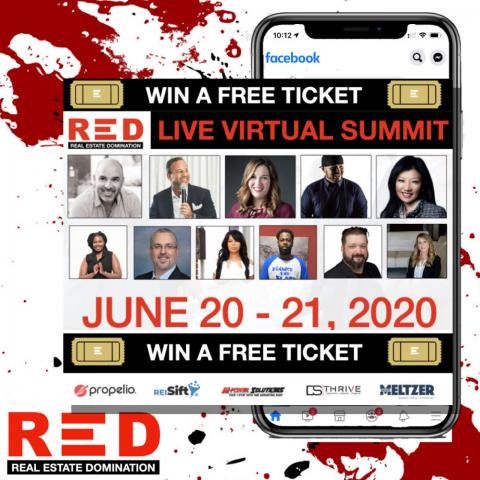 - June 2, 2020 /PressCable/ —
Real Estate Investors, Wholesalers, Fix and Flippers, Real Estate Brokers, Real Estate Agents looking for the latest information on Real Estate Investing can register to attend Real Estate Domination Live Virtual Summit scheduled for June 20th & 21st 2020.
For a limited time you can win free tickets by entering the raffle here.
M-Power Solutions, the leader in Real Estate Investing Data, is sponsoring this year's event, which will cover key issues such as:
Data & Marketing Compliance – How to get the best data and market to it, while staying TCPA compliant.
Buy The Block, No Money, No Credit – Learn how to get started in real estate with no money and no credit.
7 Year Plan to Seven Figures – Learn how you can use real estate to earn millions in just seven years.
Wholesaling – learn how to get properties under market value and "flip" the contracts to investors.
Virtual Wholesaling – How to wholesale properties anywhere in the country, no matter where you live.
Mobile Home Millions – Learn how to wholesale, flip, and rent mobile homes.
Build Your Brand – We know sales, we think we know marketing, but building your brand is key to long term success.
Be Your Own Bank/Creative Finance Strategies – Learn how to use different creative strategies to turn any situation into a deal without the help of a bank.
Full details on the event can be found on the Real Estate Domination website at https://www.realestatedominationlive.com/.
When asked about the reasons behind creating this event, the host of the event, Kirsten Franklin and Jacob Petschel said:
We wanted to bring the most diverse expert panel of speakers who can help you start or scale your real estate investing business.
It be will shown how these speakers have built multiple 7, 8 & 9-Figure businesses and the first steps you need to take. This includes different ways in which a real estate investment business can be started, built, and scaled, with little to no money down as well as various ways in which leads can be sourced, buyers found, and how to streamline.
Network with industry leaders and other like minded investors and open up possible JV opportunities to do business together at the live event and in the free private Facebook group.
Release ID: 88959962