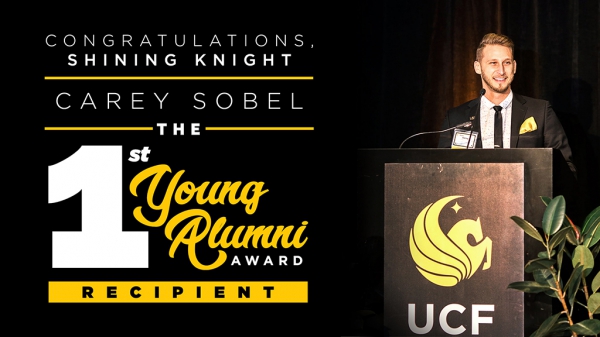 - October 20, 2017 /PressCable/ —
Carey Sobel Receives First UCF Young Alumni Award
Carey Sobel, partner and chief strategy officer for the Orlando-based digital marketing and creative agency Three21, was recently named the inaugural recipient of the University of Central Florida's Young Alumni Award, which recognizes exceptional UCF alumni for their professional achievements and community engagement.
Sobel accepted the award Friday, Oct. 13, at the Shining Knights Alumni Awards ceremony, held at the UCF FAIRWINDS Alumni Center, alongside Honorary Alumni Award recipients Loretta and Michael Corey, and Distinguished Alumni Award recipient Michael Manglardi.
"It's an incredible honor to receive this award from my alma mater," said Sobel, who graduated from UCF in 2009 with a degree in business management. "I'm incredibly passionate about everything UCF stands for, and I'm so grateful for the opportunities I've been afforded — both as a student and, now, as an alumni."
Sobel's passion for UCF is apparent, as he serves on the board of the Young Alumni Council, is a member of the UCF College of Business Alumni Chapter and actively participates in speaking engagements for students in addition to UCF's mentorship program.
"There's no one who deserves this recognition more than Carey," said business partner and Three21 founder and CEO, Joe Boutin. "It's an outstanding recognition of his — not only his hard work and dedication to his professional career — but also of his personal achievements."
An entrepreneur at heart, Sobel co-founded eight different businesses in industries ranging from entertainment and hospitality to real estate brokerage and marketing — all before he turned 30.
But his biggest accomplishment? Adding "father" to his list of job titles with the recent adoption of his wife's six-year-old niece, Marley. (Detailed in the article, Nobel Sobel, by UCF Advancement.)
"The way Carey and [his wife] Lauren have embraced parenthood has been nothing short of inspiring," Boutin said. "I'm glad this award has allowed us to highlight his personal victories in addition to his professional accomplishments, because he has worked hard for both."
About Three21
Three21 is an award-winning, Orlando-based digital creative agency that merges dynamic strategy with disruptive creative. Three21's cohesive team of visionaries helps brands engage audiences, drive leads and grow business.
Release ID: 252873