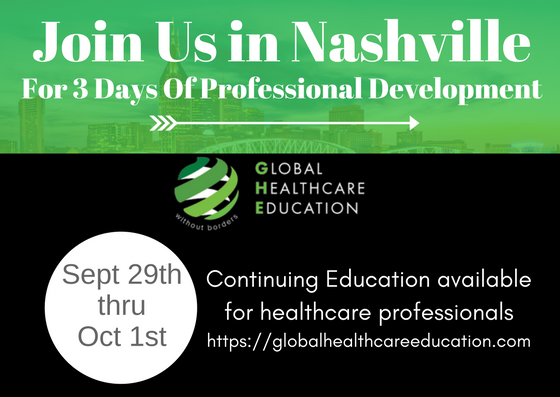 - September 12, 2017 /PressCable/ —
Global Healthcare Education (GHE) will be hosting a 3-day conference at Nashville's beautiful Loews Hotel Plaza September 29 – October 1, 2017. The weekend event is open to all healthcare professionals and includes CE credits for attendees.
The conference, co-sponsored by APPI Education, features speakers from around the world who will cover a wide range of healthcare topics. "We are very excited to be able to celebrate the launch of GHE in Nashville, a city where the healthcare industry is thriving," says Glenn Withers, co-founder of Global Healthcare Education. "We know that flexibility and 24/7 access are incredibly important in today's connected world, and we look forward to bringing the highest quality courses to professionals wherever they are, whenever they need them."
Co-founder and industry veteran Greg Green said that the Nashville event is a one-of-a-kind experience. "This three-day event will provide attendees with a unique concept of having three speakers from three separate countries providing content that is relevant, informative and inspiring. Technology allows us to share knowledge with the global community, without borders. This event will be an opportunity to experience that first hand."
The conference is geared toward physical and occupational therapists, assistants, physiologists, athletic trainers and Pilates instructors. Each course will offer 6 CE credit hours per day. Special introductory and group rate pricing is available via their website for early registrants.
The program speakers include:
Glenn Withers B.Physiotherapy MAPA, MCSP, HPC (Melbourne Australia) Co-founder of Global Healthcare Education and an award-wining physiotherapist Dr. John O'Halloran PT, DPT, OCS, ATC, CSCS, cert MDT (North Caroline, USA) Physical therapist and renowned speaker Dr. Kirsten Roberts PT, DPT (Cape Town, Africa) Physical therapist, master trainer for APPI Pilates Institute
Registration information as well as schedule details and hotel accommodations are available online at www.globalhealthcareeducation.com
About Global Healthcare Education
Global Healthcare Education is founded by two of the industry's most successful leaders, Glenn Withers and Greg Greene. Mr. Withers has spent years researching and studying physiotherapy advancement, and is considered one of the leading experts in the development of world leading healthcare education, with a specific interest in the combination of physiotherapy and Pilates. Mr. Greene has considerable experience in healthcare education, having led Cross Country Education for over a decade to become one of the country's largest providers of live continuing education seminars. By merging their own success and understanding with the health and wellness industry, Mr. Withers and Mr. Greene created Global Healthcare Education to deliver the best in class service and become a market leading force.
Release ID: 238058