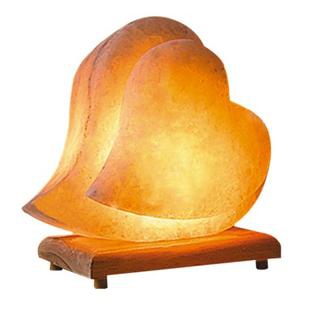 - November 7, 2016 /PressCable/ —
Useful Innovation announces the current release of double heart Himalayan salt lamps available for purchase on Amazon.
People looking for an interesting gift item need look no farther. Himalayan salt lamps are one of the more interesting items to come into vogue in the last twenty years. The public in general is becoming increasingly aware of all things healthy and organic. Tens of thousands of salt lamps are sold in the USA every month. Himalayan salt lamps fit the bill by being made of ancient deposited pink crystal salt left over from an ancient sea in the locality now occupied by the Himalayan mountains. This was long before the age of modern pollution. In addition to looking interesting and decorative, Himalayan salt lamps emit negative ions to help purify the indoor air, and expose those nearby to negatively charged air which gives people a sensation of invigoration. They purify the air by emitting negative ions which cause pollen, allergens, dust, smoke, and other impurities to stick together and leave the air. They also combat electro-smog, which is the overabundance of positive ions generated by most home electronic devises. Too much electro-smog makes people feel sluggish and uninspired. More information on salt lamp benefits is available at http://www.usefulinnovation.com/
The handcrafted double heart Himalayan salt lamp is now available on Amazon http://www.amazon.com/Himalayan-Purifier-Carved-Romantic-Eco-Friendly/dp/B017QPJQ4W/.
It is handcrafted into the shape of double side by side hearts. Himalayan salt lamps are five inches long, eight inches tall, and are made of hand carved Himalayan rock crystal salt with a Neem wood lamp base. They come with a six foot cord and are heated by ten to fifteen watt bulbs. The cord dimmer switch allows the lamp to double as a medium intensity lamp, or at a lower dimmer setting, as a night light for the bedroom or any other room. The artistic carved lamps will look good in any settings. Besides being attractive and useful for air quality improvement, people find them an interesting topic of conversation. Available on Amazon http://www.amazon.com/Himalayan-Purifier-Carved-Romantic-Eco-Friendly/dp/B017QPJQ4W/
Release ID: 143696