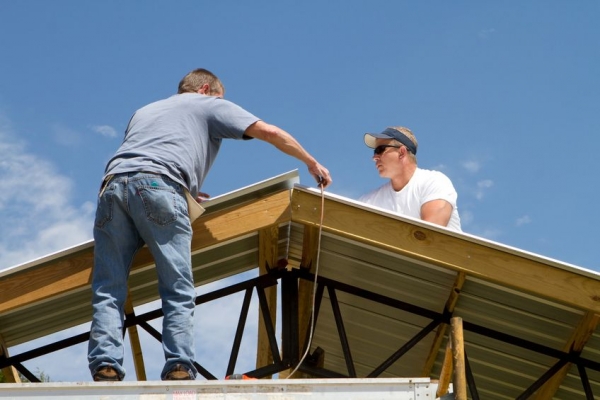 - August 14, 2015 /PressCable/ —
One roofing company in Brisbane is covering its customers roofing needs thanks to their '6 year labour warranty'. Roofing Services Queensland is offering their customers worry free roofing services that home-owners who are in need of a new roof for their commercial, residential or industrial premises can be satisfied the job is done right.
There are a number of roofing companies in Brisbane who don't provide their customers with a solid warranty. As a result of this, a lot of customers don't get 100% satisfaction. Some local roofing companies promise a workmanship warranty verbally but don't live up to their word. In the end, the roof may have defects, often leaking when it rains which makes the situation worse for the home-owners.
Before making an agreement with any roofing services company, the potential client should ask for a free consultation. The consultation will provide the customer with information about the state their property is in, the roofing solutions that will be used and how the roofing company will work with them as clients.
One particular roofing company has provided many homeowners throughout the local Brisbane area with 100% satisfaction. They have been replacing roofs, building new roofs and removing old asbestos roofs in Brisbane and rural Queensland for more than a decade.
The roofing company is also very competitive when it comes to pricing. Their '6 year workmanship warranty' (extendable to 18 years) is a special offer that is provided by the company for property-owners with a new roof or roof replacement. This just goes to show how confident they are in the work they provide.
Roofing Services Queensland has a number of options available for people who prefer the use of special metal roofing treatments. The Roofing Services Queensland team not only solve any roofing crisis but at the same time keep their client's property protected with safe, long-lasting roofing for the individual and their family members well-being.
The company has such a good reputation within the roofing industry in Brisbane and surrounding areas that other companies that provide roofing services such as Brisbane Roof are referring clients for the larger and more difficult jobs that they can't handle themselves.
The company claims they do what they say they will and they put it in writing. They focus their efforts on covering their clients completely. Andrew Gardiner, owner of Roofing Services Queensland stated, "A lot of roofs leak during storm season without the owner knowing. This can be costly and even dangerous for property owners."
"It is important to get your roof checked regularly because not only do you have to worry about water penetration, winds and storms can also cause serious structural damage to your building. This can result in costly repairs."
Roofing Services Queensland provides residential and commercial roofing services for various premises such as homes, offices, warehouses and factories in Brisbane, the Gold Coast and Sunshine Coast as well as rural Queensland Australia.
One client who contacted the company via their Brisbane Roofing Services website said he was very pleased with the work undertaken on his property. He said the team was punctual, managed the reroofing construction professionally and provided great value for money. "I would not hesitate to recommend them", he said.
Release ID: 89036