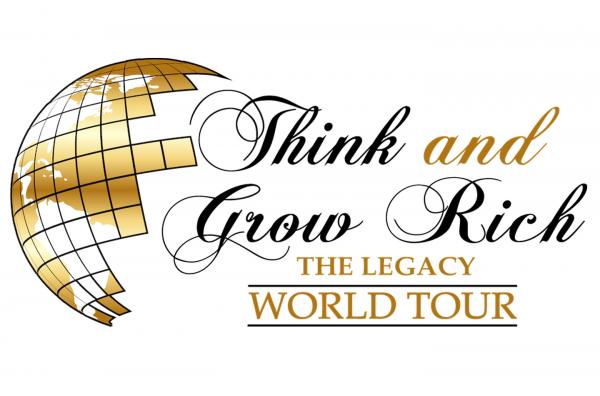 - March 20, 2021 /PressCable/ —
A two-day virtual live Zoom event sponsored by Think and Grow Rich Legacy World Tour will be streamed April 10-11, 2021. This event will be hosted by John Shin, author of "How Rich Asians Think" a Think and Grow Rich publication by Napoleon Hill and Executive Producer of the movie "Think and Grow Rich: The Legacy."
Sharon Lechter, the co-author of "Rich Dad, Poor Dad" and renowned accountant and businesswoman, will be joining John as a keynote speaker. Ms. Lechter is also the founder and CEO of the financial education organization, Pay Your Family First.
Another keynote speaker is the President of Success magazine Don Hobbs. Mr. Hobbs is an industry speaker, coach, trainer, and business consultant with over three decades of experience. He is also a visionary leader, landing him on the Realtor® Magazine list of "Top 25 Most Influential People in Real Estate".
EXP Realty founder Glenn Sandford will also be bringing his guidance to the event. Starting in 2009 with only 24 agents, over the course of a decade, Mr. Sandford was able to expand the company and exceed 40,000 agents internationally. His idea for a cloud-based realty experience was the driving force for EXP Realty.
Other notable speakers for the event include:
Greg Reid
Mark Lack
Angel Rivera
Sonja Stribling
Michael Hummell
Dr. Jeffrey Fannin
Owen Beiny
And Many More Speakers
Tickets are now available in three pricing tiers. With your ticket to the live-streamed Zoom event, you can watch and learn as the Think and Grow Rich principles come alive. Each of the three pricing tiers offers limited-time offers and extra features with purchase.
Past event participants of the Think and Grow Rich Legacy World Tour and the Think and Grow Rich movie included Mario Lopez, Barbara Corcoran, Grant Cardone, Bob Proctor, Rob Dyrdek, Steve Aoki, Darren Hardy, Kevin Harrington and Ray Parker Jr. Many celebrities have appeared in the "Think and Grow Rich: The Legacy" movie, "Think and Grow Rich Legacy World Tour," and have contributed to John Shin's "How Rich Asians Think" book.
Think and Grow Rich The Legacy Virtual World Tour is a two-day virtual live Zoom event where keynote speakers will share the secrets to their success and the principles of the Think and Grow Rich philosophy. Attendees will learn new financial investment techniques, digital marketing, gain confidence, and so much more.
-The two-day virtual live event will be streamed on Zoom April 10-11, 2021, from 10 am to 5 pm PST
-Tickets are available in limited seating
-Virtual World Tour Speakers include a hand-picked selection of authors, entrepreneurs, and investors speaking on public relations, branding, leadership, business development, sales techniques, mental health and more.
More information and tickets to the Think and Grow Rich Legacy Virtual World Tour two-day live-streamed Zoom event can be found at https://TGRWORLDTOUR.com/.
About John C. Shin
John Shin is a serial entrepreneur, movie producer, author, philanthropist, business coach, and motivational speaker. He has started over 26 multi-million dollar business enterprises and is the co-founder of the ALL FOR ONE Foundation. His book, "How Rich Asians Think," a Think and Grow Rich publication with the Napoleon Hill Foundation. He is also the Executive Producer of "Think and Grow Rich: Legacy," a movie based on the original Napoleon Hill "Think and Grow Rich" novel.
Think and Grow Rich The Legacy and The Think and Grow Rich Institute are licensees of the Napoleon Hill Foundation. The Napoleon Hill Foundation is not an affiliate of the Virtual World Tour.
Release ID: 89001744