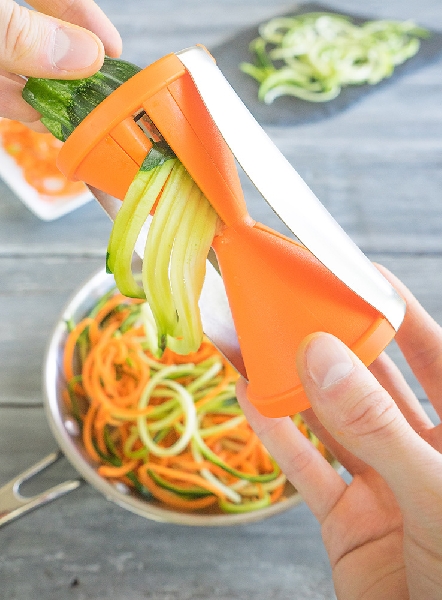 - October 18, 2014 /PressCable/ —
With a similar look, feel and taste to spaghetti, butwithout the carbs or gluten, zucchini pasta has become one of the hottest newfood items. Zucchini is slicednoodle-thin and then quickly sautéed to a create a perfect base for any desiredsauce, providing a grain-free alternative without the sacrifice of noodlepleasure. But the trick can often be inthe slicing itself, especially when cooking for a large group of people. The HULK spiral slicer, however, makes quickwork of the zucchini with razor-sharp blades and a simple twisting action.  And the HULK is indestructible and guaranteedfor life. Justfor a limited time, Vegolette, manufacturer of the HULK spiralizer is offeringa special 65% off coupon at its Amazon store, beginning October 18. By entering coupon code 5RHJ23GH, customerswill receive the HULK vegetable slicer for only $9.95. 
The HULK spiral vegetable slicer features two blade sizes(2mm x 3mm & 3.5mm x 5mm) which will make a julienned pile of any vegetable- carrots, radishes, potatoes, cucumbers, apples, or other produce. In addition to the blades, the HULK comeswith a cleaning brush, razor sharp ceramic peeler and a DVD featuring twovideos ("How To Use The Spiral Vegetable Slicer" & "How To Clean YourSpiralizer in Seconds") and two e-books ("Delicious Spiralizer Recipes" &"4 Foods You Should NEVER Eat to Lose Weight"). 
The HULK is constructed out of high-quality ABS, BPA-freeplastic, produced with a single mold so there's no joints or seams tobreak. It's so tough that the productcomes with a complete, lifetime money-back guarantee. If for any reason a customer does not liketheir spiralizer, they can send an email to Vegolette and receive 100% of theirmoney back, no questions asked, and no need to even send the item back. And the manufacturer goes even further – ifany HULK vegetable spiralizer shows any sign of manufacturing defect, thecompany will not only send a new slicer, but they'll pay the customer anadditional $10 for their trouble. 
For more information on the HULK vegetable spiralizer, just click here.
Release ID: 66070