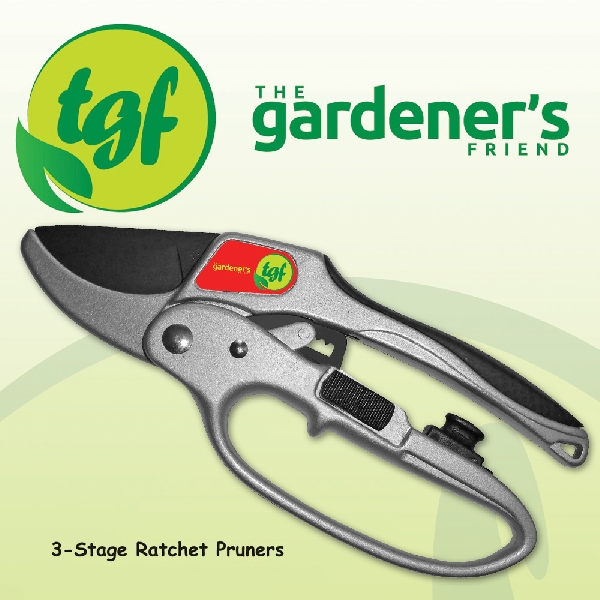 - November 6, 2014 /PressCable/ —
Dateline Berwick, NS.   Paul Grimm President of The Valspring Group announced today that the company is about to Re-launch its Flagship product, The Gardeners Friend 3-Stage Ratchet Pruners. This product has been created and designed with ergonomically functional features for folks with weak hands, and mobility issues.  It employs a unique ratcheting mechanism that provides leverage when making cuts and reduces impact and strain on the hands.     
According to Paul Grimm, President of The Valspring Group and Founder of The Gardeners Friend Brand;  "Our population is aging quickly with the Baby Boom generation entering retirement.   Many folks who love to garden are finding this task more and more difficult as they develop conditions like Arthritis, Tendons, Carpal Tunnel Syndrome and other mobility issues associated with aging".   
The company is dedicated to providing tools for gardeners that can allow them to extend their gardening lives by years, even decades.  The company is planning to re-launch with a media blitz to inform people of the availability and utility of these products.  Mr. Grimm Says: "Through focusing attention of our first and flagship product we feel confident that we can provide the relief to aging gardeners so that they may continue to work with and maintain their passion for the outdoors and the beautification of their properties".
The launch will include news distribution through our website properties, Facebook pages, Pinterest, Twitter, and Tumbler.  Mr. Grimm added:  "It is our goal to reach out to bloggers and others with Online properties in the Gardening niche to communicate the message of Healthy and Pain Free Gardening, for folks with Age and Mobility Issues".
Distributions and broadcasts will begin the week of Nov 10th, 2014.   "The plan is to reach the homes and lives of hundreds of thousands of aging Gardeners."  Says Grimm.   Mr. Grimm is himself a sufferer from these conditions including both Arthritis and Carpal Tunnel Disorder and is committing his company to providing tools that will provide relief and "Extended Warranty" to gardeners who have reached this stage in life.   
About The Valspring Group
The Valspring Group is the sole distributor for The Gardeners Friend 3 Stage Ratchet Hand Pruners.
The company focuses on products to make gardening easier for those with mobility problems. The ratchet hand pruners provide a potential solution for people who wish to keep on gardening.
Release ID: 67589