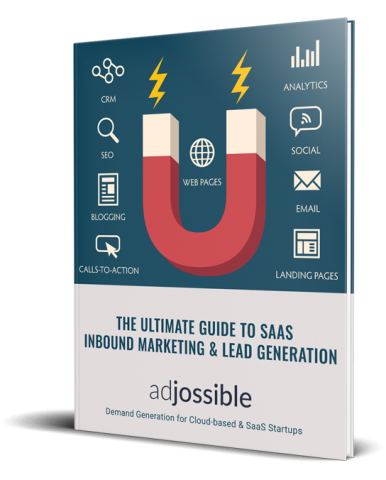 - November 2, 2020 /PressCable/ —
HubSpot Partner Agency, Adjossible, has published a new how-to guide dedicated to helping B2B SaaS/Software Founders and Sales Leaders Build an inbound marketing and inbound sales enablement engine. This guide will also have information useful to any B2B SaaS company facing the challenge of engaging target customers at the different stages of the modern buyer journey to generate demand for their software solution. According to SiriusDecisions, 67% of the buyer's journey is now done digitally, and 57% of purchase decisions are made before a B2B customer engages directly with a salesperson, as reported by CEB Global / Gartner.
Interested parties are invited to review the how-to guide in full on their website: The Ultimate Guide to SaaS Inbound Marketing and Lead Generation
This most recent how-to guide from Adjossible contains steps and instructions, designed to be used by SaaS startups between $500K – $3 Million in revenue to predictably grow the business with a consistent flow of new customers easily and with as little stress as possible.
Adjossible states that this accessible, easy to follow guide provides the information necessary to understand how to implement the most effective B2B lead generation strategy, to get the results SaaS companies want.
The Full How-To Guide Covers: Generating Awareness – How to generate awareness with your target SaaS customers with content that builds authority and trust. Demand Generation – How to gain the respect and confidence of target customers and move them from the awareness phase of the buyer journey into the consideration phase. Acquire New Customers – How to generate 50% more sales-ready leads, achieve a 70% faster sales cycle, a 54% improvement in achieving quotas at a 47% larger revenue-value per newly acquired customer.
When asked for more information about the guide, the reasons behind creating a guide on SaaS inbound marketing & lead generation and what they hope to accomplish with it, Chad Holland, Founder & CEO at Adjossible said: "We want to help SaaS startups achieve their potential. This free guide provides everything you need to know to create an inbound marketing and inbound sales enablement engine to grow and scale your business."
B2B Saas Founders and Sales Leaders and anybody interested in The Ultimate Guide to SaaS Inbound Marketing & Lead Generation are invited to review the how-to guide online: https://adjossible.com/blog/the-ultimate-guide-to-saas-inbound-marketing-lead-generation/
More information about Adjossible itself can be found at https://www.adjossible.com
Release ID: 88983562