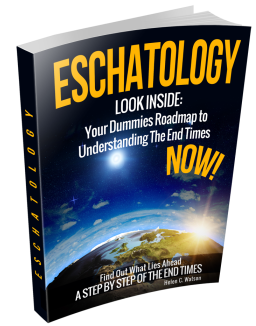 - March 27, 2018 /PressCable/ —
March 27, 2018: Religion and science both agree on a universal fact that the world will end one day, and the end of times is basically the end of this world as we know it. There is good news for everyone seeking to understand the end of times as an all new eBook has emerged to explain the single most asked question around the world. The site for this book is called www.ProphecyLastDays.com and it explains The End of Days to make it simpler for everyone.
"This website is based on my eBook entitled 'ESCHATOLOGY: Your Dummies Roadmap to Understanding the End Times NOW!' It's all about your future. It's exciting to know you can choose to have a part in your eternal destiny," said Helen Cordelia Watson, the author of this startling eBook in introducing it to the public. "
"We take great pleasure in welcoming everyone to get your end times' answers in the eBook's 14 easy to understand chapters. Everyone deserves to understand what exactly the second coming of Jesus Christ is, (and how His coming can affect your future), and who the Antichrist is, and how he can affect you also." She added.
The most amazing fact about this eBook is that it has explained some of the most frequently asked questions in history in simple language that can be understood by everyone. Unlike religious scholars, scientists and futurists, this book will make even the unaware and layman audiences understand the significance of the events that will unfold as this world approaches its end, as it exists right now. This eBook is already expected to receive a phenomenal response from readers in many different religions around the world; and especially the Christian readers as the book literally touches their every day lives and beliefs.
According to the author, she has written this book as a 'Dummies Roadmap' to give everyone an insight to the inevitable future we must all be aware of before we leave this life. From Judgment Day Prophecies to the Armageddon itself, the book has explained the phenomena in a way that can not only grab the attention of an average or below average reader, but it can also make them aware of the world that they live in today. Though most people take this world and life for granted, some rightfully contemplate and anticipate the unavoidable truth that things are coming to an end, as it is written in Revelation 21:5, "And he that sat upon the throne said, Behold, I make all things new. And he said unto me, Write: for these words are true and faithful."
For more information and to download the eBook today, please visit:
Release ID: 320612