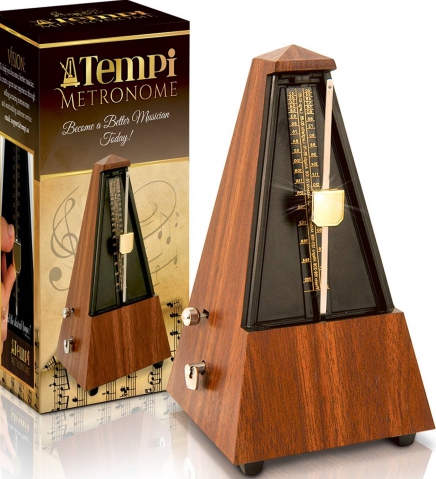 - April 7, 2017 /PressCable/ —
The Tempi Metronome has been released on Amazon.com. As the most wished for and wanted mechanical metronomes, this is the metronome to get if for those looking to improve in music or know a friend or family member who is.
Why is a metronome important for musicians to own and use? A metronome is a device that helps musicians keep time and stay in rhythm. It can be used for piano, guitar and other instruments to improve the musician's rhythm and tempo.
A mechanical metronome is beneficial to own because it possesses a swinging pendulum that moves back and forth to keep time. It produces a loud tick noise and can be adjusted to tick at a slower or faster pace according to the musician's needs. The swinging pendulum also acts as a visual beat reference for keeping time visually when practicing.
Fred from Georgia said, "Solid metronome, and I should know… I've been a professional musician (flute, bass, drums, guitar, vocals, educator) for close to 50 years, and I use a metronome every day. Up until purchasing the Tempi, I have only trusted electronic devices because most mechanicals tend to favor one side of the pendulum movement over the other – you basically get: Tick-tik, Tick-tik, Tick-tik, with the secondary being of shorter duration. That's no way to learn and internalize good timekeeping! Unlike most high-end competing brands, the Tempi keeps rock-solid, even beats on both sides of the pendulum swing. I love this metronome and highly recommend it to all my students. Well done Tempi !"
The quality of the material used to make the metronome is also important. It is essential to invest in a mechanical metronome with steel gears (versus plastic gears) as they will always be accurate and are much more durable when taking the metronome to music lessons.
Tempi's new metronome possesses these features and more. Apart from a faux mahogany exterior, steel gears and pendulum, their metronome comes with a complimentary cleaning cloth, deluxe packaging and 2-Year Warranty against defects. It also includes a beat lever to not only practice tempo, but to play each measure at the right time. Additionally, it is at a very affordable price of just $45.00 and comes with free 2-Day shipping for Amazon Prime members. It is available in all 50 states in the USA and internationally as well.
With more than 220 positive reviews and counting and rated a whopping 4.6 stars, the Tempi is the number one best-selling mechanical metronome on Amazon. Many musicians trust the Tempi to help propel them to the next level.
https://www.amazon.com/Tempi-Tem-4000-Metronome-for-Musicians/dp/B015ULU8HI
Heather from California states, "'I've played classical piano since I was 4 – I went to college on a piano scholarship. I have never done anything with it professionally, but it has always been a part of my life, and sitting atop the piano was always a mechanical (not electric, certainly not digital) metronome. These days, for reasons of space and economics, I play on a Williams Overture II (fully-weighted 88-key electric), which has a built-in metronome. I loathe it (the metronome, not the piano, which I adore), and after just 2 days of trying to practice using it, I had to order a proper metronome. I couldn't be happier with my purchase; nothing compares to a mechanical metronome, simply nothing. If you're trying to learn to play piano, timing is imperative – it is a percussion instrument, after all – and you simply cannot hear the digital ones properly over the piano. Also, the mechanical metronome has the swinging pendulum, which, much like a conductor's hand, helps keep you on beat. Whether you're a seasoned pianist, an early student, a professional, an amateur, teacher or soloist, you are doing yourself a disfavor by not having one of these atop the instrument."
Check-out the Tempi Metronome for Musicians today only available on Amazon.com today!
About Tempi: Tempi Brand was founded by musicians for musicians. Noticing that no brand solely focused on providing music practice gear for musicians and a disconnect in the market, Tempi was born. Growing faster than ever, they plan on releasing many new musical products this year that help musicians improve and feel confident in their music playing abilities.
Release ID: 183979