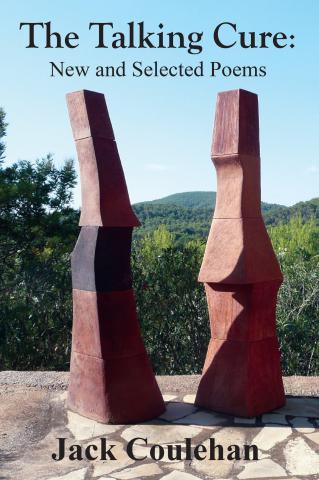 - June 26, 2020 /PressCable/ —
Austin, Texas, 1 July, 2020 – Plain View Press announces the timely release of The Talking Cure by Jack Coulehan, hitting bookstores and Amazon on July 1, 2020. A virtual book launch reading, hosted by The Walt Whitman Birthplace Association, will take place on Thursday July 16 at 6:30 PM EDT.
The Talking Cure: New and Selected Poems , highlights physician Jack Coulehan's poetic career, exploring tenderness and steadiness in medical practice—observing moments, healing gestures, and internal response that reveal the worth of the individual and an ethic of compassion. The Talking Cure contains new poems plus selections from six previous books. Copies of The Talking Cure, paperback (ISBN: 978-1-63210-078-8) or ebook (ISBN: 978-1-63210-079-5), can be purchased through Amazon, retail bookstores, or ordered in quantity from Plain View Press.
A physician by trade, poet-author Coulehan uses poetry to reflect and express the trials and triumphs of keeping the body well and of facing death. The poems look beyond the difficulties of physical existence to see the worth and holiness of the individual with directness, passion, and humor. They show an ethic of compassionate solidarity between patient and doctor, person and family, the individual and the community.
An Emeritus Professor of Medicine and Preventive Medicine, Jack Coulehan was formerly director of the Center for Medical Humanities, Compassionate Care, and Bioethics at Stony Brook University. He is the author of six collections of poetry, including Bursting with Danger and Music (Plain View Press, 2012). A medical educator, his medical writing includes essays on clinical trials, medical ethics, and humanities, and an award-winning textbook, The Medical Interview: Mastering Skills for Clinical Practice. Information about his books can be found at Jack Coulehan's website.
Jack Coulehan is the finest physician-poet working today. An acknowledged man of letters, he has been awarded both the Annals Poetry Prize, and the American College of Physicians' Nicholas Davies Award. Here are poems that will stay with you, poems of courage, poems of value to you. —Michael A. LaCombe, Poetry Editor, Annals of Internal Medicine
Jack Coulehan's The Talking Cure takes us on a wild, wonderful journey, sweeping us on a current of poems … about the joys of medicine, of family, of love and faith …the frustrations of caring deeply for others. In the voice of a physician and of patients, he deftly balances the clinical and the humane, revealing terrors and shared ravages in poetry rich with images and simply beautiful. —Cortney Davis, author of Taking Care of Time
In The Talking Cure, distinguished physician and poet Jack Coulehan gathers thirty years of his work at the intersection of storytelling and healing. Like Chekhov and Whitman, kindred spirits he evokes, in his every line Coulehan asks, "How can I open up, give voice//turn these words into flesh?" His answer is this unflinching, humane, and always attentively listening of poetry. —Rafael Campo, author of Comfort Measures Only
Each poem in The Talking Cure brings a disarmingly honest and steadfast gaze to the joys and sorrows of the human condition, filtered through profound observations about doctors and patients, people and places. These poems will inspire and uplift you, even as they break your heart. —Johanna Shapiro, PhD. Director, Program in Medical Humanities & Arts, UCI School of Medicine
Publisher Plain View Press is a 45-year-old issue-based literary publishing house, a far-flung community of humane and highly creative writers, artists and activists, whose energies bring humanitarian enlightenment and hope to individuals and communities grappling with the issues of our time—peace, justice, the environment, education and gender.
Release ID: 88965526