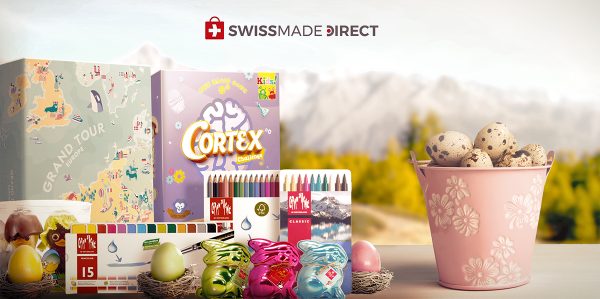 - March 17, 2018 /PressCable/ —
The largest Swiss shop online has announced the plan for a massive Easter sale on hundreds of premium chocolates and other spring Swiss products. It is sure that the lower prices for these products will delight the online shoppers who are searching for proven, quality products and reliable service.
The seasonal Easter sale started a day ago, and it will run after the Easter comes, until April 10. Shoppers can expect to find 15% discount on all premium chocolate Easter products as well as on Swiss made home entertainment items, games and toys, accessories, skin care products, Swiss clothing, watches and equipment. This very diverse offer is organised in categories to make it easier for customers to find they want quicker.
Speaking about this sale event, CEO of Swiss shop online said: "We want to please our customers by the huge variety of Swiss products on offer. Whether shopping for a unique Swiss made chocolate eggs, home accessories or even latest Swiss tools, we have a great deal for everyone. Also, we know that our customers love getting extra low prices all year so this was one of the main reasons to have bigger Easter sale this time than we had previous year."
Pre-easter and After-easter Deals at Swiss Made Direct
At the moment, 15% discount is not the only one deal the largest Swiss shop prepared ahead of Easter. By signing up for a Swiss Made Direct's e-mail deals to keep up to date, the customer can also get a bonus 5% discount, which he can use anytime he wants, whether on chocolate Easter products, or Swiss clothing, or anything in the categories.
Besides these two, Swiss Made Direct will also release a new gift-giving game on its social media channels.
The CEO of this online marketplace added: "As a part of the pre-Easter promotion, our marketing team has planned to bestow nice Swiss made gifts to some of our social followers. And for those who are already on holidays, we extend the duration of these two discounts a little after Easter."
The customers can keep up to date with all the latest deals by checking On Sale section of the Swiss Made Direct site: https://swissmade.direct/products/easter-2018/
Follow the brand on social media: @SwissMadeDirect Twitter or the @Swissmade.direct Facebook page
Release ID: 315803