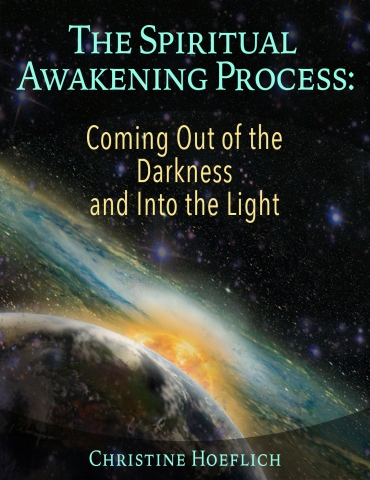 - January 19, 2017 /PressCable/ —
A new book on spiritual awakening has been published on Amazon Kindle, titled, The Spiritual Awakening Process: Coming Out of the Darkness and Into the Light. Written by Christine Hoeflich, the book lays out in concrete detail the true meaning of the Great Shift in Consciousness and the transition from the Age of Darkness to the Age of Light. This comprehensive book not only explains, but also helps readers fully engage in, the worldwide spiritual awakening and return to Christ consciousness currently taking place.
Christine has a bachelor's degree in materials science & engineering from Cornell University, and has received a master's in the field of environmental studies. Her first book, What Everyone Believed: A Memoir of Intuition and Awakening was recognized by North Atlantic Books as one of four notable spiritual awakening memoirs of the last several years. The Spiritual Awakening Process is her second book. Less personal than her memoir, it offers a galactic-level view and awareness, including the detailed "how-to's" of the spiritual awakening process.
Although humanity has reached a defining point in its spiritual history, the fact that the world is changing from the Age of Darkness to the Age of Light at this very moment is not yet widely known or understood. This transition comes on the heels of generations devoid of the intuition and internal powers that can be activated within by using both sides of the brain in tandem. The book supports the reader's individual journey towards consciousness and helps readers claim their birthright of vital shamanic powers and deep, intuitive wisdom.
Christine explains that in America's history, the Age of Darkness has corrupted the moral integrity of what the Founding Fathers stood for. The outcome is a bleak world of corporate greed, the enrichment of a few at the expense of the many, the destruction of the Earth, and a departure from this country's divine purpose. Nothing less than a return to America's divine destiny is the cure.
The Spiritual Awakening Process: Coming Out of the Darkness and Into the Light offers a potent antidote to the powerlessness and hopelessness felt by so many around the world. Speaking to the shaman in each person, it guides readers toward their divine purpose and by so doing, ushers in a world of peace, harmony and joy.
Full details of the book can be found on Amazon at:
https://www.amazon.com/Spiritual-Awakening-Process-Coming-Darkness-ebook/dp/B01NAUA9NJ/.
More information on Christine can be found on her website at: http://ChristineHoeflich.com, where she offers a free quick start guide for spiritual awakening and boosting intuition.
Release ID: 162664