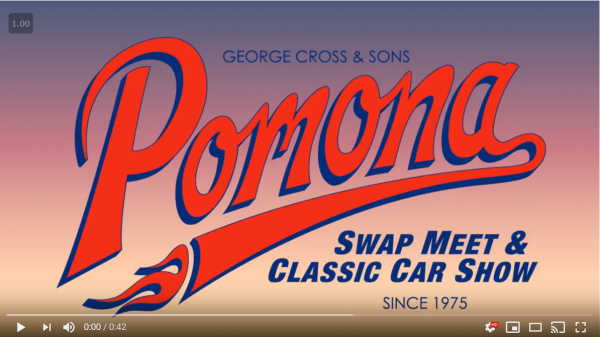 - May 25, 2019 /PressCable/ —
The Car Enthusiasts Mecca
Since their invention, cars have become an integral part of our existence. Beyond serving as a major means of transport, old school cars in particular reveal our passion for the road and history of automotive culture. In service of this passion, George Cross & Sons, Inc. proudly presents the Pomona Swap Meet and Classic Car Show, the West Coast's largest automotive swap meet and vintage car show featuring classic cars for sale hailing from all walks of life. Held seven times per year, the "Pomona" is a platform created for car enthusiasts to transform their classic car, car parts and automobilia into cash! With an overwhelming presence of hundreds of car part vendors sprawled across 2,000 vendor spaces, it's long been regarded as a car enthusiasts mecca. This next edition of the show takes place on June 2, 2019, at the Fairplex in Pomona, California. Participation is open to everyone. Car brands on display include Corvette, Porsche, Volkswagen, street rods of all makes, as well as generations of deep automotive culture.
"Classic cars are constant reminders of the rich history of the automobile industry. We appreciate the effort car enthusiasts put in to restore and maintain these cars. So we came up with a way to help them make money while doing what they love." Notes the George Cross & Inc. team.
The Pomona has kept history alive since its inception in 1975 by bringing together car enthusiasts and vendors to create a one of a kind event for the classic car trader and enthusiast. By utilizing a spacing arrangement that ensures a pleasing experience to swap meet participants, sellers will have ample display space to enable buyers to locate them easily.
Largely viewed as the ultimate offline opportunity for anyone to turn their old parts and other classic auto-related items and memorabilia into cash, the Pomona Swap Meet & Classic Car Show offers vendor spaces and a car corral as well as general admission access to suit any level of classic car enthusiast.
Join over 20,000 car enthusiasts to either buy, sell or simply enjoy the day indulging in historic American automotive culture.
About Pomona
As Southern California Classic, George Cross & Sons, Inc. presents seven giant automotive swap meets every year which have become known as the "West Coast's Largest" antique auto swap meet and classic car show featuring classic car and truck models from Chevrolet, Volkswagen, Ford, Oldsmobile, and so much more. The Pomona Swap Meet and Classic Car Show, held at Fairplex in sunny Pomona, Calif., is the ultimate automotive event where individuals have the opportunity to buy, sell, trade and otherwise turn their classic car, car parts and automobilia into cash.
Anyone can participate: businesses, hobbyists and garage cleaners are all welcome.
Individuals will be in the presence of hundreds of car part vendors sprawled out across 2,000 vendor spaces. Additionally, they will browse through thousands of original and restored classic vehicles that are on display and for sale in six specialized Car Corral sections: Pre-1985 Classics, any year Corvettes, any year Porsches, Pre-1959 Street Rods, Pre-1985 Volkswagens and Pre-1985 Imports.
For information please visit https://www.pomonaswapmeet.com/
Release ID: 516856