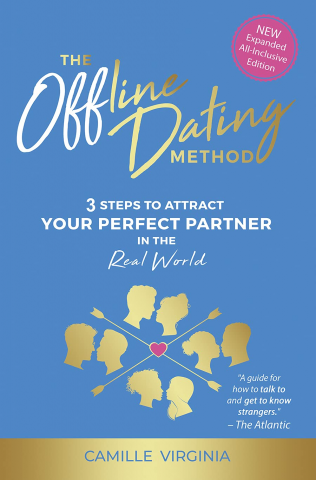 - September 3, 2021 /PressCable/ —
In this NEW, all-inclusive and expanded edition of the best-selling book, author Camille Virginia helps singles of all gender identifications and sexual orientations navigate a post-pandemic dating world where they can finally ditch the Zoom dates and attract their perfect partner in the real world.
The modern dating process is a mess – but it hasn't changed our innate desire for love and human connection. Rather than add to the exhausting narrative about the perils of digital dating, Camille Virginia has created a refreshing and powerful solution for it. The Offline Dating Method: 3 Steps to Attract Your Perfect Partner in the Real World (on sale: August 31) isn't so much a book as it is a movement, a how-to guide for getting singles off their apps and into the real world. In addition to daily challenges and tips (like how to start a conversation with anyone, and four ways to never forget someone's name) to meeting someone in real life, The Offline Dating Method contains startling research about how dating apps are designed to keep one single and the correlation between body shame, low self-confidence and dating app usage.
"A hyper-current artifact of the present…The Offline Dating Method could virtually double as a guide for how to talk to and get to know strangers, full stop." –The Atlantic
On her journey to overcome a lifetime of social anxiety, Camille Virginia mastered the art of meaningful connection, which led to being asked on dates by hundreds of men, from the Denver airport to the greeting card aisle of a drug store—with zero use of technology. In her book, she shares her step-by-step secrets to success, giving anyone the power to attract a great partner wherever they go by tapping into our inherent need for in-person connection.
Camille has taught more than 100 live workshops, worked with clients across six continents, and has followers from over 100 different countries. The Offline Dating Method isn't just for singles looking for a romantic partner. It should be treated as a handbook, used to create a more fulfilling life across every aspect: friendship, career, family, and romance. Camille is working to change the way we interact for good.
Camille will be featuring on Dates & Mates as a guest on 24th August, 2021 to share tips and secrets to her success in the offline world.
Put. the phone Down! Follow The Offline Dating Method and form a meaningful connection in the real world.
The book The Offline Dating Method is in the charge of Lifestyle Entrepreneurship Press – a house committed to a more democratic model in the book industry specialized in Entrepreneurship & How To, Self-Help, Spirituality, Health and Wellness genres. LE Press has published over 150 books in the aforementioned genres with the purpose of creating enjoyable ways for readers to consume and engage with the ideas, tools, methodologies from entrepreneurs in the world.
Camille Virginia is the founder of Master Offline Dating. Through coaching, courses, and work-shops, she has helped women in over 100 countries learn how to naturally attract quality men and live a more fulfilling life. Camille has held over 100 live events and has been featured in more than 50 international media outlets. She lives in Portland, Oregon. The Offline Dating Method is her first book. Find out more at www.offlinedatingmethod.com.
Release ID: 89006950