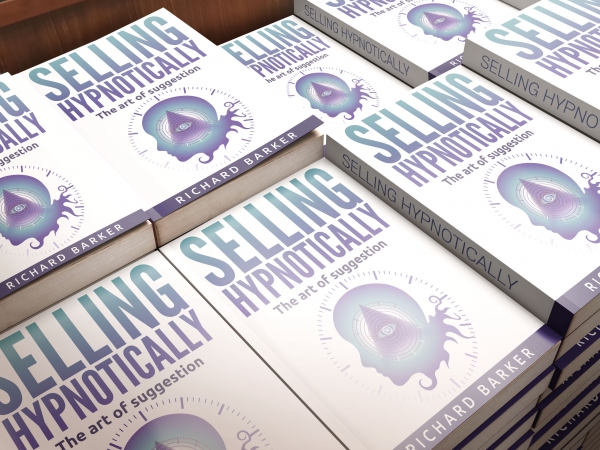 - September 29, 2016 /PressCable/ —
Richard Barker is a World Renowned Professional Hypnotist specializing in using hypnosis and NLP to increase sales and influence. Richard Barker is launching his brand new book, "Selling Hypnotically the art of suggestion". The book is set to go live September 30th, 2016, available at all major bookstores and advanced copies can be obtained through the selling hypnotically website. The book once available, is expected to become a big hit with sales teams and organizations and people within the hypnosis world. Richard Barker's extensive experience can be reviewed at the Incredible Hypnotist Website
More information on the book can be found here: http://sellinghypnotically.com
This is the second book Barker has authored and his first one "Secrets of the stage revealed , the guide to hypnosis and stage hypnotism" was a major success. The book was written with the aim in mind to introduce the world to the power of suggestion and influence by using hypnosis. Excitement surrounds this book launch because it will be the author's much anticipated second release and will unveil the secrets to selling with hypnosis.
Selling Hypnotically the art of suggestion sets its main focus on hypnosis and how the power of influence can improve anything sold. Readers will likely find a particular interest in the way the human mind reacts to hypnosis and embedded commands and suggestions through the selling phases.. The book's cover art was created by Sandra Holly and Selling Hypnotically the art of suggestion is being released by A&A Book Publishing.
The author has a background in advanced hypnosis and sales training. His background helped shape the creation of the book by the keen interest in the art of hypnotism as well as selling and mind triggers. Persuasion is a very centralized philosophy in relation to understanding the psychology behind proper sales techniques. A good persuader is someone who can influence another into making a favorable decision in their favor, but what truly are the key principles behind persuasion? What actions or strategies can be employed to help persuade others? Is there a way to make someone say "yes" to something, even if they initially considered refusing the offer? There are methods of modern hypnosis that can work in attracting customers and helping close more deal than expected.
When asked about why they wrote the book, Barker said: "people buy based on emotion and a level of program; I am fascinated with hypnosis and how the mind works"
Barker has hopes that the book will increase the selling capacity of anyone in a position of selling anything. This positive outlook from the author is certainly a testament to their optimism considering some of the mishaps during its creation. At one point, for example Richard Barker was behind deadline to to him performing over 300 shows a year and the dozens of personal clients he has in his New York City and Orlando hypnotherapy practices.
In a recent interview, the author made a point of thanking Kent Police for the inspiration and motivation of negotiation and all the great NLP and hypnotist practitioners out there for their part in the creation of the book.
Those interested in learning more about the book can visit here: http://sellinghypnotically.com/
Release ID: 134954