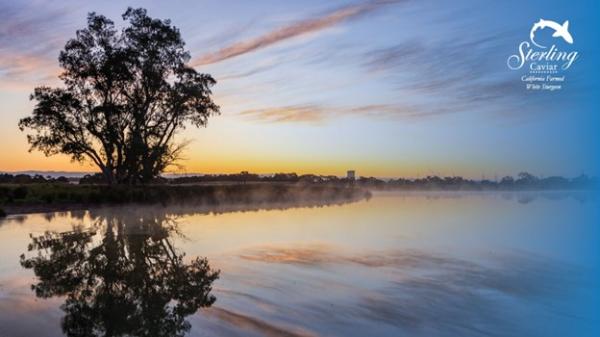 - May 7, 2021 /PressCable/ —
Offering an environmentally friendly and sustainable way of producing caviar that has helped reduce the pressure on wild sturgeon stocks, Sterling Caviar is undeniably the largest producer of caviar in the U.S., and there's a reason for that.
In 1983, Sterling Caviar became the first commercial sturgeon farming operation in California. The company originally sourced its white sturgeon from the Sacramento River, but in 1994, the team worked with the California Department of Fish and Wildlife and the University of California, Davis to develop an environmentally responsible broodstock program and replaced all the wild fish it borrowed from the river.
Today, Sterling Caviar maintains an online store that introduces customers to top-quality caviar. Its rich flavors, ethical farming, and friendly service have impressed people across the U.S. Sterling Caviar has a lot of pride in being the pioneer of culturing sustainability of the California white sturgeon. All the white sturgeon fish they have have been raised on their farm!
Sterling Caviar is based in Sacramento, also known as the Farm-to-Fork Capital of America. The company has four farms within the area where American White Sturgeon are spawned and raised with meticulous care. The team puts in the time to ensure absolute quality and transparency. The sturgeon take 7 to 10 years to reach full maturity, and only then can the harvest begin.
The caviar is packed fresh at the farm and sent by overnight delivery to a customer's doorstep. And because they take great pride in what they produce, customers can always expect quality products arriving at their door.
Sterling Caviar's farm-to-palate system eliminates the middleman. The company maintains a good reputation in the culinary community because of its high-integrity and high-quality approach to caviar production. The team does not cut corners or settle for second-rate.
Thanks to its hands-on farming practices, Sterling Caviar can stand behind the quality of every spoonful of its caviar. The fish biologists can trace each product back to an individual sturgeon and tell customers which tanks it swam in, what it was fed, when it was hatched, and who its parents were. That transparency is unmatched in the industry.
In October 2020, Sterling Caviar was acquired by its new owner Eugene Fernandez. Now under new management, the company is looking ahead to many improvements and growth opportunities for the Sterling brand. Due to the nature of the business, according to Fernandez, Sterling Caviar ends up with a lot of fish wastes that can be turned into fertilizer, fish skin that could be turned into leather, and caviar extract that can be used for skin care. Fernandez believes there is potential there and the possibilities are very real. The next few years are definitely going to be an exciting time for the company.
A passionate and knowledgeable team works behind at the scenes at Sterling Caviar. The company has a good mix of industry veterans and newcomers who share an appreciation for the savory taste of good caviar. The company has stayed in business for over 30 years by blending tradition with innovation and providing compassionate customer service every step of the way.
Sterling Caviar sells its caviar to distributors, retailers, and restaurants, but it also has a direct-to-consumer store where it offers a doorstep delivery service. Customers purchase these products with high expectations — and the team goes to great lengths to see them satisfied. Customer service is, and remains, a priority. Myra Tallerico, General Manager, believes wholeheartedly that the company should extend kindness always and provide stellar customer service to everyone they interact with. This is what she wants for Sterling Caviar to be about. It's not just about their products, but it's also about how Sterling Caviar treats and cares for their customers.
Sterling Caviar has already established itself as a leader in sustainable white sturgeon farming, and the team is continually exploring ways to give back to the environment and the community. They are focused on growing the brand, tweaking their operations so that there's much more efficiency in their processes, and definitely elevating the customer experience. According to Tallerico, Sterling Caviar insists on very high standards to match the high expectations they've set for ourselves. They vow to remain true to their staff and to their customers.
For more information on Sterling Caviar, visit Sterling Caviar or call 800-525-0333.
Release ID: 89006645