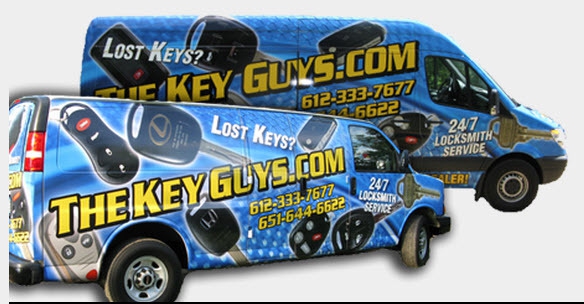 - October 28, 2017 /PressCable/ —
The Key Guys, the Minneapolis St Paul region's top rated Automotive Locksmiths, recently relocated their garage and staging area to a new location in the South Minneapolis Industrial park off Lyndale Ave and the Crosstown Freeway.
"The new locations gives us quicker access to the freeway system," says Brian Nystrom, The Key Guys owner. "Not that it matters much, as we are generally around and about the Twin Cities metro." "When distress calls come in, we dispatch the vehicle closest to the caller assuming they are or will be free to respond in a reasonable amount of time."
Distress calls are local emergencies where a customer may have lost or broken a key while away from home and needs immediate assistance. "We try to respond to those as soon as possible" Brian says. "We recognize that such situations are real crises for the people involved."
The Key Guys spend most of their time servicing local Auto dealerships, Rental Car Agencies and local automotive service companies like Bobby & Steves. They also do a lot of work with impound lots and towing companies. "These are our bread and butter customers, day in and day out," Brian explains. "Usually, we are not in a time crunch with them. That allows us to play the Good Samaritan, and help out the general public when the need arises."
The new location is The Key Guys parts depot and garage where they maintain their fleet of vehicles. The administrative office remains where it was when the firm started in 2004 at 215 Queen Ave S in Minneapolis. "We do not serve clients at the garage," Brian explains, although he sees a need to establish a retail location in the coming months.
The idea of playing a Good Samaritan role runs deep with the firm. Not only does it sponsor a championship level softball team, they are active supporters of a youth intervention ministry called Youth Impact Racing.
The Key Guys are Certified Automotive Locksmiths (CAL), by the ALOA the Associated Locksmiths of America. They were the first to be certified in the Twin Cities. They remain the #1 service in the Minneapolis St Paul region for replacing lost car keys from scratch, car key duplication, programing and repairing ignition locks.
Release ID: 257071