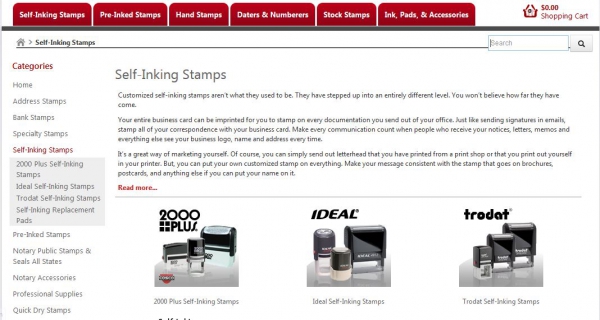 - October 25, 2017 /PressCable/ —
New York based small business, the Ideal Stamp Shop offers a new, affordable and easy way for small business owners to make their brand look amazing and consistent. Create customized rubber stamps from a graphic, text or logo of your choice.
The Ideal Stamp shop is an online service that allows entrepreneurs, DIYers, creative professionals and others to turn any design into a pre-inked or self-inking rubber stamp. Whether you want to get your company's logo, your signature or the address of your company converted to address stamps, they have professionals who can easily do the job at competitive pricing.
The team behind the Ideal Stamp Shop is through professionals and has years of experience to back their knowledge. They want to help small companies create a professional look for their business by producing high quality cost-effective solutions. Small businesses generally don't have a lot of money to spend on different things. This is when the professionals of the Ideal Stamp Shop come to their rescue and help them design high quality customized address stamps at cost-effective prices.
Ideal Stamp Shop MD was quoted as saying, "To design a stamp for their business, entrepreneurs need to upload the design, choose the font, style and size, position the logo or text and buy the stamps. Technology has made everything simple. With a single click, you can easily design a stamp for your business and it will be delivered to your address within few days."
You have a chance to design address stamp, logo stamp, signature stamp, self-inking stamps or pre-inked stamps. Whatever you pick, remember that it is going to make your work a lot easier so never compromise on the quality of the stamps.
When it comes to the abilities of the rubber stamps, sky is the limit. Digital and physical world are moving closer which gives you a chance to express yourself better. Apart from branding your company on the digital platform, you need to stay consistent throughout various platforms. This is when a rubber stamp can help you achieve your motive.
A customized address stamp gives you a chance to save time, money and effort while writing down the address of your company on important documents, envelopes, invites, cards and more. About Ideal Stamp Shop
Ideal Stamp Shop is one of the most popular online stamping shops that take care of all your stamping needs so that you can easily concentrate on what's more important. They have a large collection of rubber stamps that can easily be customized to suit your needs.
Whether you need address stamps to customize your wedding card or to stamp your business address on important documents, Ideal Stamp Shop has your back.
Release ID: 254252