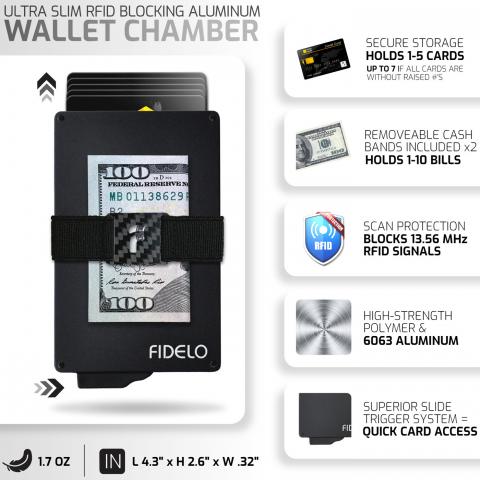 - December 7, 2020 /PressCable/ —
FIDELO, maker of some of the top-selling minimalist wallets on Amazon, has helped thousands retire their old traditional bulky wallet with their amazing 3-in-1 mechanical minimalist wallet dubbed the "Hybrid." In a brilliant combination of fashion design and engineering, the Hybrid slim wallet is based on a cool slider mechanism which ejects cards smoothly. The RFID blocking aluminum wallet looks great and can be used on its own as-is, holding up to 7 cards as well as bills with a carbon fiber-accented money clip cash band. Alternatively, the case may be slipped into a removable/interchangeable genuine leather case for a high-tech design that blends a traditional masculine look. The leather sleeve expands the Hybrid's capacity by holding an extra 2-4 cards and up to 10 bills while allowing unhindered access to cards.
FIDELO is offering a special limited-time discount to the public to celebrate the popularity of this uniquely original smart wallet for men.
Buyers may choose from one of 14 different great-looking top grain leather sleeves – Black Crazy Horse, Charcoal Crazy Horse, Desert Tan, Rustic Brown, Cordura Ballistic Nylon, and more. The leather sleeves are not RFID-blocking which allows users to keep the tap-pay cards they want to scan accessible without requiring removal from the card case wallet. The Hybrid's mechanical ejector system is brilliantly engineered for exceptional functionality, secure storage and easy 1-finger access that is guaranteed to never jam. It comes with two black carbon fiber-accented bands to securely hold cash. The Hybrid aluminum case alone measures 4.3" x 2.6" inches, and with the leather sleeve it measures just 4.3" x 2.9" – indisputably one of the most unique front pocket wallets for men on the market.
The FIDELO Hybrid pop-up card wallet comes with a No-Risk 100% Satisfaction Guarantee. It makes an excellent, special gift and arrives with beautiful designer packaging, sure to be impressive to any man, whether it's a brother, father, boyfriend or co-worker who will love this intelligently engineered credit card holder wallet.
Like all of FIDELO's minimalist wallets, the Hybrid has received outstanding reviews on Amazon, such as this one from Verified Purchaser "Tyler": "Yes. Yes. Yes. So much yes. This is everything I've been wanting and looking for from a slim design "trigger-style" wallet. Comes with elastics to wrap the wallet to hold cash. And the leather/suede style sleeve adds the perfect touch to class up the aluminum design. Cards hold super tight whether it's full or even just 1 card. (Not the case for other similar style wallets)."
Amazon Verified Purchaser "C.Schultz" wrote: "I don't usually leave reviews for things, but this wallet is another level. I recently went through a horrible back injury, 2 herniated discs and one bulging, that left me unable to even walk for a couple months. So I've been looking for an alternative to a wallet since sitting on a wallet is a huge stress on your lower back (especially huge bulky ones). I got this delivered yesterday and let me tell you…. it is life changing! So sleek and comfortable to keep in the front pocket. Absolute top notch quality and feels so sturdy. For this price you can't beat this wallet. This thing compares to the $100+ wallets on the market for a fraction of the price. Buy it! You won't regret it!"
Anyone interested in sampling the Hybrid should check out FIDELO's special limited-time offer on one of the best minimalist wallet options available anywhere.
Release ID: 88988574