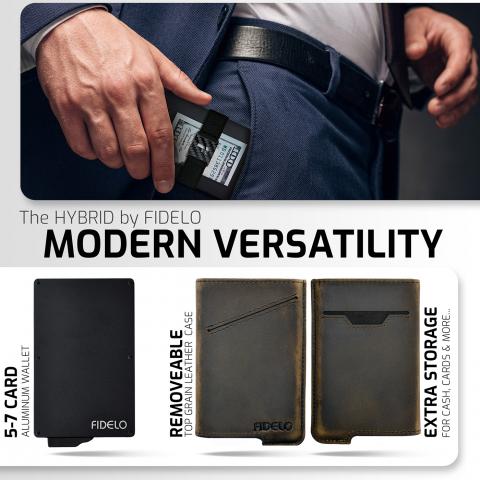 - November 26, 2020 /PressCable/ —
The FIDELO company has built a reputation as one of the top-sellers of rfid wallets for men, earning a top slot on "Amazon's Best Sellers List" for "wallets". Now the company has created a new slim wallet for men that is uniquely stylish and sophisticated. Dubbed the "Hybrid," their new design combines an ingeniously engineered pushbutton smooth-eject mechanism which allows single-finger access to cards, along with a choice of fourteen different real leather sleeves to create a true hybrid of ultramodern gadgetry and traditional mens wallets.
To celebrate the growing popularity of this uniquely original pop up wallet, FIDELO is offering their Hybrid minimalist wallets for a limited time at a special price on Amazon.com.
The FIDELO Hybrid minimalist wallet for men is like having two wallets in one. Alone, the Hybrid RFID blocking aluminum wallet will hold up to seven smooth cards and 10 bills in the carbon fiber-accented money clip cash band. Buyers may choose from among fourteen leather sleeves – Black, Distressed Gray, Desert Tan, Rustic Brown, Espresso, Chestnut, Vintage Black or Brown, and more as well as with or without a Magnetic Money Clip or Removable Carbon Fiber Money Clip. The optional, removable leather wallet cases increase EDC (every day carry) capacity by 2-4 additional cards and 10-25 bills depending on the case model. One great advantage of the Hybrid leather pop up card wallet is that while the soft top-grain leather is a beautiful classic look while out on the town, it can be removed and the tough metal wallet chamber taken alone on rugged and wet adventures like rafting, camping and hiking.
The FIDELO Hybrid credit card holder aluminum 1-finger trigger wallet chamber alone measures 4.3" x 2.6" inches, and with the leather sleeve it measures just 4.3" x 2.9". It makes an excellent, special gift and arrives with beautiful designer packaging, sure to be impressive to any man, whether it's a brother, father, boyfriend or co-worker who will love this intelligently engineered smart wallet with pop up card feature.
Amazon Verified Purchaser "Jeffrey Gropp" wrote about the FIDELO Hybrid minimalist wallet: "First thing I noticed about the packaging was the weight. Not heavy but more of a "Solid" weight.
The box that this wallet arrives in is elegant, simplistic and sophisticated. A small magnet hidden under a pleather outer fabric holds the lid shut. Upon lifting the lid you are met with a nice velvet/suede material that creates a smooth and soft interior. On top is the wallet w/ leather case wrapped in a protective parchment paper. Underneath the wallet, you are greeted to a leather swatch stating "Made with Genuine Leather" and two money bands.
The money bands are well designed with durable elastic and strong stitching. At the center is a metal laser cut emblem of the letter "F". This is a nice touch should you choose to not use the leather case and go with the "naked" wallet. It keeps the modern and minimalistic image but all the functionality.
The leather case is very nice and fits snugly over the wallet. It is smooth to the touch and very durable. You can expect to get markings on this case if it is in the same pocket as your keys. They do have badging in the lower right front corner of their name. Subdued and smooth as well. It doesn't distract from the aesthetics of the case
The wallet (metal portion) fits perfect in your hand. The edges are not too sharp or rounded. You shouldn't have to worry about it scraping or cutting up your hand nor slipping out and falling to the ground. The lever is a slide lever. I like this better than the pull levers of similar wallets by different companies. This almost negates the chance of it accidentally extending your cards. At first, the lever was a little stiff but I chalk that up to being new. I tried 6 cards and it worked fine but did take a little more "umph" than expected. I removed on card leaving 5 in there and the lever was smooth as melted butter. There was still an initial resistance on the lever but once past that it glides nicely. I can't help but think that this is part of the design to further protect your cards from randomly ejecting out.
I will return 6 months from now to provide an updated rating. For the price, this is quality at it's finest."
Amazon Verified Purchaser "MattG" wrote: "I looked at this wallet and many others for several weeks before deciding to pull the trigger on this. So far I'm very glad I did! It arrived today in perfect condition and excellent packaging. I was able to transfer 6 cards into the slot mechanism and it works perfect. On the outside of the leather case are pockets, one on each side. I put my drivers license in one pocket and on the back side I put a couple of food gift cards. So I am technically carrying 9 cards total with no problem. I was pleasantly surprised to discover the bands also fit around the leather case, although quite snug. It works perfect for holding folded cash on one side and maybe a receipt or two on the other side. So far I am impressed with the quality feel of the wallet and the fact that it holds a lot more than it looks like it will, yet still stays small and thin. Excellent purchase and highly recommend!"
Anyone interested in joining the sampling one of the best pop up slim wallets for men available anywhere should visit Amazon.com, for a limited time special price on the FIDELO Hybrid minimalist mens wallet. To learn more, you can also check out the Hybrid product features video via Youtube.
Release ID: 88986883