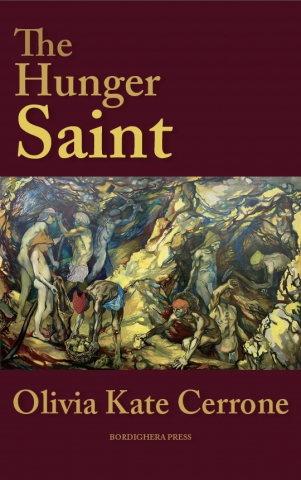 - April 5, 2017 /PressCable/ —
Severe poverty and unenforced labor laws led countless Sicilian families to put their children (some as young as six years old) to work in the sulfur mines, where they experienced horrific working conditions. These children were known as the carusi. The Hunger Saint by Olivia Kate Cerrone is the tale of one such young Sicilian, who was forced to labor in Sicily's sulfur mines to support his family.
"The Hunger Saint is a story of hope and survival set in post-WWII Sicily. Hailed by KirkusReviews as "a well-crafted and affecting literary tale," this historical novella follows the journey of Ntoni, a twelve-year-old boy forced to labor in Sicily's sulfur mines to support his family after his father's untimely death. Faced with life-threatening working conditions, Ntoni must choose between escaping the mines and abandoning his family. As a series of unforeseen events soon complicate his plans, Ntoni realizes that all is not what it seems and to trust anyone might prove to be as fatal as being trapped inside of a cave-in. The Hunger Saint draws from years of historical research and was informed by the oral histories of former miners still living in Sicily today."
"[The Hunger Saint is] a good read for anyone interested in Sicilian history…the plight of the working class. The carusi and the sulfur mines are a part of history that I was unaware of, and if that's the case for you, then I would deeply recommend this novella."" says Jo Niederhoff, Seattle Book Review. The full review can be read HERE.
"Child labor has been a chronic issue for so much of our history and still is even today. The Hunger Saint is a look at one such abuse in our recent past and a reminder of why modern society has banned child laber." says Manhattan Book Review publisher Heidi K. Rojek.
Find more information about The Hunger Saint HERE.
Olivia Kate Cerrone's Pushcart Prize-nominated fiction won the Crab Orchard Review's 2016 Jack Dyer Fiction Prize. A regular contributor to The Rumpus, she is at work on a novel called DISPLACED. Her essays have appeared in The Huffington Post, xoJane, Luna Luna Magazine and elsewhere.
The Hunger Saint, a historical novella will be published by Bordighera Press in April 2017. Cerrone's short stories have appeared in various literary journals, including New South, the Berkeley Fiction Review, The MacGuffin, War, Literature and the Arts, JMWW, Word Riot, Quiddity and Paterson Literary Review. She serves as an associate editor for CONSEQUENCE Magazine, and as a creative writing workshop facilitator for Writers Without Margins, a nonprofit organization dedicated to marginalized voices. For more information visit her website – https://www.oliviacerrone.com/
SeattleBook Review is a part of the City Book Review company and publishes more than 200 reviews a month in more than 40 genres. City Book Review has four review outlets, San Francisco, Manhattan, and Seattle Book Reviews, and Kids' BookBuzz. They also license three other publications, San Diego, Portland, and Tulsa Book Reviews. Independent authors are encouraged to check out all of the publications for review and marketing help and guidelines. If you would like to get your book reviewed, visit the book submission guidelines page for City Book Review for more information.
Release ID: 183393