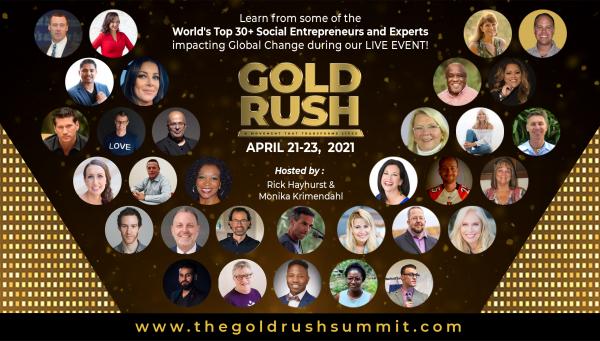 - April 16, 2021 /PressCable/ —
(April 15, 2021) – The Gold Rush Summit, A Movement That Transforms Lives helps Social Entrepreneurs create currency through traffic and connection. The currency needed ranges from funding to volunteers, to training, to new clients. The Gold Rush Summit holds the entrepreneurs' hands as they embark on positively impacting the world.
Social Entrepreneurs take on projects that create improvements, or healing, in the world creating organizations that support local and global changes. Issues like girls' education, homelessness, hunger, domestic violence, equity, poverty, environmental issues, etc. are some examples of the Social Entrepreneurs' focus.
"Designing solutions for today's social problems requires an entrepreneurial approach, a mindset that embodies the characteristics of bold thinkers with audacious goals, crafting data-driven strategies with interactive solutions". (Collahan, 2015) As a result, social entrepreneurs profoundly take it upon themselves to cultivate sustainable solutions to the existing social problems.
Did you know…
Social Entrepreneurs are passionate risk-takers who apply innovative and practical solutions resulting in positive societal change.
Social Entrepreneurs create businesses in a variety of industries that can have a positive impact on society, including poverty reduction, health awareness, and education.
Social Entrepreneurs view communities as the solution and not as the beneficiaries of products and services. They provide the resources and expertise that help communities improve their quality of life.
Social Entrepreneurs benefit the economy by generating jobs and income. In addition to providing jobs, they also use part of their profits to fund projects that can benefit the community as a whole.
The largest online social entrepreneurs event, The Gold Rush Summit is a remarkable three day event where 30+ of the World's Top Social Entrepreneurs share expertise creating social impact as they drive local and global change.
Clear your schedules for this 3-day, extraordinary event, April 21-23rd, 11 a-7 p EST. Get ready to pivot challenges into successes, get the insights and strategies you need for your business, and cultivate social change.
More information can be found at https://www.thegoldrushsummit.com
Release ID: 89005463