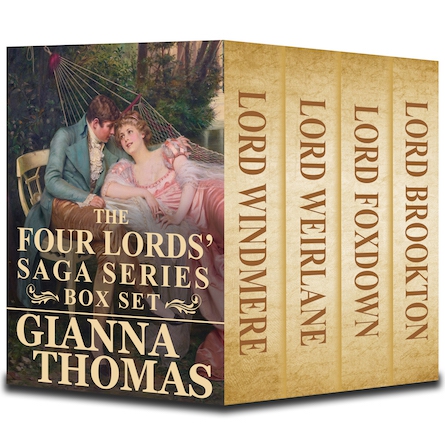 - September 4, 2016 /PressCable/ —
"We are publishing these four Regency Historical Romance novellas in a Box Set for the convenience of Gianna Thomas' fans," said NPC Pubs publisher, Andy Jazwinski. "Her readers can now follow the trials and tribulations of these four young men as they search for the perfect wives, all in a single volume."
Click here to pre-order 'Regency Romance: The Four Lords' Saga' on Kindle at a reduced price: http://bit.ly/2bDwpcQ.
"I'm so excited about Gianna Thomas' 'Four Lords' Saga' Regency Romance! And her original characters are amazing. She has dreamed up rakes every woman will want to reform personally," Says Kay Springsteen, an Amazon #1 Bestselling Author.
Read about the London rake known as Lord Windmere as he goes on the prowl for a wife. He has always liked the younger sister of his best childhood friend, Robbie Thornton, but will he even consider Lady Jane? After all, she's too young and too innocent for someone like him.
And come along with the Duke of Weirlane as he attends a house party with a debauched reputation. Enraged to find his best friend from childhood attending, he vows to protect her from the reprobates that will also be in attendance—including himself—and will not hesitate to deflower an innocent. Unfortunately, the best-laid plans go awry.
See as Lord Foxdown becomes a victim of love at first sight. The object of his love is the eldest unwed sister of his friend, the Duke of Weirlane. He is determined to marry the young woman, and the duke is just as determined that Foxdown will not. And will the duke's formidable temper cause him to call his friend out?
While Lord Brookton may be the least handsome of the four lords, he is the most popular with the ladies in London for his prowess in the bedroom. He is also the most temperamental and debauched of the four lords. Irritated that the friendship of the four young men has been broken up by the marriages of Lord Windmere and Lord Weirlane, he is finding that life is not as satisfying as it had been when carousing with his friends.
"I am pleased to make available a complimentary copy of 'Matt and Janie,' a prequel to The Four Lord Saga," said Andy Jazwinski.
A free copy of 'Matt and Janie' is available here: http://giannathomaspandp.com/series/.
Regency Romance: The Four Lords' Saga is also available in paperback here: https://www.createspace.com/6521347.
Release ID: 131107