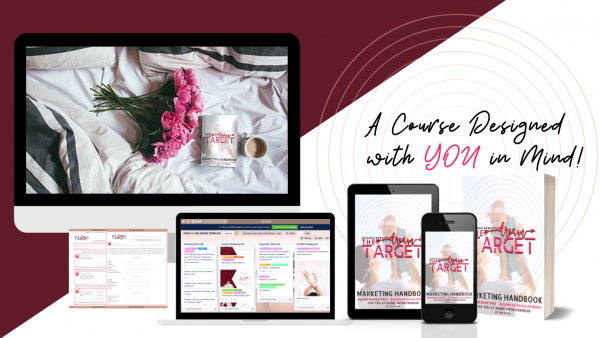 - June 11, 2020 /PressCable/ —
Earlier today, NiaDara NewYork announced the 2020 launch of its new online course, The Dream Target a brand marketing and online business development program made for mothers who aspire to start a business from the comforts of their homes. NiaDara NewYork has been servicing small businesses and their owners for the last eight years. The Dream Target is specifically designed for stay-at-home moms (and dads) who want to make a living from their multi-passions while being able to care for their families. The Dream Target learning course is centered around the development of both the business and the business owner, giving women the confidence it takes to be a thriving entrepreneur without sacrificing family values or financial freedom.
Nia Dara, founder at NiaDara NewYork says: "I've worked nearly eight years as a freelance consultant while juggling work and family obligations. I know the frustrations of limited resources when building a business from scratch in tandem with maintaining the household. I built this program to address the very unique needs that primary-care parents face when trying to provide financial security through passion-based, meaningful work. If you desire professional success and personal independence, then The Dream Target learning course is for you." ~ ND
With these desires and challenges in mind, The Dream Target course was designed to support goal-getting mothers where they are, understanding their needs and bringing them the tools to truly thrive. Anyone familiar with the women's entrepreneur market will have probably noticed how everyone else seems to be selling them business products that are not in line with a full-time parent's lifestyle, leaving this group largely misunderstood and misrepresented. There is so much "noise" on the internet, it's hard for one to know where to start and what to focus on. Most online business educators are promoting the end product, a fancy and polished lifestyle, by-passing the true first steps of online entrepreneurship. The Dream Target learning course addresses mindset, business development and brand marketing, three foundational components for a new business to grow from. From driving early-stage adapters to your brand, to wooing business partnerships and ensuring the scalability for years to come, The Dream Target learning course is where you can find exclusive members-only freebies, education, and resources. This on-the-go training program is designed to meet you where you are now, a full-time parent and aspiring entrepreneur, while also providing services that will grow with you in the future.
Going a step further to address the needs of stay-at-home moms, The Dream Target program was designed to help her start a business, while communicating on her level by understanding what is truly important in her eyes. "We want to make the experience personal, like having a one-on-one conversation with a friend, jam packing the program with discussions, downloadable and more to make the experience an informative safe place for which to find true self-expression without judgment during various stages of growth, both as a business leader and as a boss mom."
Start your dream-to-reality journey today with FIVE FREE GIFTS that will help you power-up your brand-marketing efforts.
"Many new entrepreneurs focus on the business and or the product, which is of course is very important. But from my experience, I know that most small business owners leave the marketing for last, or as a plan for the future. This outlook however leaves thousands of dollars on the table, in addition to a much longer and costly startup phase. With our new online business course, we've made it easy for moms who aspire to become work-from-home entrepreneurs to target their dream business and make that a possibility. We hope that when using our freebies, tools and services, that our community comes away feeling excited about what they've created for themselves."
NiaDara NewYork's The Dream Target learning course is fulfilling a need that has long been overdue. As Nia saw first-hand, there is a disconnect in the marketplace for a program that truly represents full-time parents aspiring to financial freedom. Nia Dara has made it her mission to design a program that focuses on the intrinsic needs of mothers with a desire for entrepreneurial success and financial independence. Since Day 1, Nia Dara knew in her heart that she could apply her years of experience to help others, which showed up after the pregnancy of her second daughter in 2015. "I was frustrated that the support I was searching for didn't really coincide with my lifestyle as a business owner while caring full-time for a new baby and small child. I was piecing together various services to get the training I desired from various services. I knew there had to be a better way, and I knew there were mothers just like me who were facing similar challenges. The time finally be came right to build a program that truly helps women confidently navigate early stage business and leadership.
This isn't the first time NiaDara NewYork has defied convention either. "Throughout my years as a consultant, I've provided agency-level brand marketing and business development consultancy to organizations. What I've found is that much of my work has been in the education of teams with a variety of online practices and ensure elevation within their online presence and communications. Whether a project has been rooted in design, marketing, business strategy or otherwise, there's always a need for education around the development of online practices". As Nia sees it, aspiring business owners with less resources (time, money, team) were at a disadvantage in scaling their businesses quickly and in the same way that larger organizations do with similar challenges."
The Dream Target program is available now. Get your brand marketing tools absolutely free with a simple email sign up. Once you sign up for the FIVE FREE GIFTS you will receive an email to go to the members-only area where you can find more exclusive content. Take the next step in making your dream business and lifestyle your new reality with The Dream Target course. Learn more at https://niadaranewyork.com
Release ID: 88962063