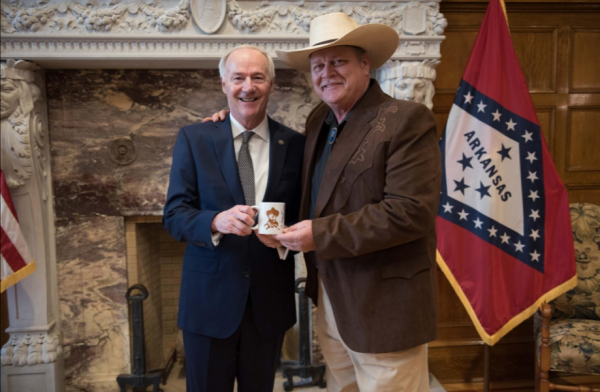 - November 14, 2019 /PressCable/ —
Paragould, AR, November 14, 2019: John T. Wayne today announced participation in the dedication of the True Grit Trail in Dardanelle Arkansas on November 14th. The legislation was signed into law by Governor Asa Hutchinson on March 30, 2019. This is legislation that Rep Mary Bentley and Senator Gary Stubblefield have relentlessly pushed through the legislative process to honor the author and movie of a true piece of Arkansas history. The dedication will be attended by Rep. Mary Bentley, Senator Gary Stubblefield, Secretary of Parks and Tourism and Mayor Witt of Dardanelle to designate Highway 22 as The True Grit Trail.
True Grit by Charles Portis is a sparingly written novel and beautifully crafted tale of revenge set in 1875 in Arkansas. From the vantage point of old age, narrator, Mattie Ross, recalls fathers murder, drunkenly shot by a disgruntled hired hand named Tom Chaney when Mattie was 14 years old. Mattie is sent by family to collect the father's body – but unbeknownst to all, Mattie has a further agenda. Discovering that Chaney has absconded with a gang of outlaws led by Ned "Lucky" Pepper and is hiding out in Indian Territory, Mattie hires the local deputy marshal to go after him – a man believed to have "true grit".
Mattie's estimable pluck and refusal to give up – or succumb to any need for creature comforts – wins admiration every step of the way. By the end, everyone is filled with a vicarious sense of new-found capabilities. From now on, all can be prepared to meet challenges alone and head on.
John T Wayne said, "The True Grit Trail" is more than a movie or a book, it is an important recognition of a way of life and the spirit of Arkansas". Rep. Mary Bentley wants to create a True Grit Trail from Dardanelle to Fort Smith to somehow capitalize on Charles Portis' novel.
John T Wayne, the grandson of John Wayne (the famous actor) will be on site and will be offering True Grit Trail Hats. John T Wayne is renowned for "The Gaslight Boys Series." The series now includes seven historically accurate civil war and western novels. The latest of which is the western fiction release "Peace In The Valley".
"Peace In The Valley" is the latest western fiction in my Gaslight Boy series and one of the most exciting" added John. The novel sets a new standard in western storytelling as John Robison heads west to discover a new life in Peace Valley. There will be no peace in the valley until John Robison is through. The mystery and intrigue of surviving the biggest water rights battle of the west.
Thursday, November 14th, 2019, the dedication begins at 10:00 AM
About John T. Wayne
John T. Wayne the American Civil War and Historical Western author is the grandson of John Wayne (the actor). Growing up attending schools all over the state of Missouri, John learned the true history of the US Civil War. John is a chip off the old block, believing in God, individual responsibility and the idea of a free America. Following in true Reagan fashion, "A True American".
John began writing his stories in 1985 while attending the University of Oregon. Leaving Oregon after daughter Kimberly passed and returning home to Missouri. After 30 years of marriage together with Donna, there are incredible stories of traveling together to share.
John is on the road a lot with speaking engagements and book signings. Traveling about 50,000 miles a year and making 50 to 75 western festivals and book signings every year.
About "The Gaslight Boys Series"
John has now published seven western novels telling the story of "The Gaslight Boys." When the Civil War started there were only two orphanages' in St. Louis with a growing number of children to care for, the Mullanphy Orphanage and the St. Louis Protestant Orphanage. This the historically accurate tragic stories of over 100,000 children losing everything, including siblings and parents to become the original "Cowboys".
The civil war and western novels in "The Gaslight Boys" series includes the following titles: Ol Slantface, Blood Once Spilled, Captain Grimes, Peace In The Valley, Catfish John, Showdown At Scatter Creek, The Treasure Del Diablo.
In John's words, "These are the stories of the young men and women who grew up to become great, in their own right, men and women of the great society. Some of them became great, some became outlaws, and some died short of the chance."
More information is available online at https://www.johntwayne.com/ or by email direct for
john@johntwayne.com.
Release ID: 88934104