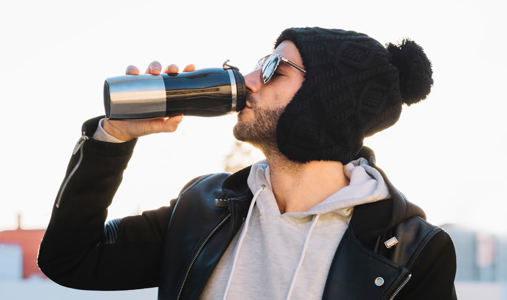 - October 12, 2020 /NewsNetwork/ —
A more health-conscious world has made water bottles almost as much of a constant companion as a wallet or mobile phone.
Fortunately, the consensus is growing that there's only one known habitable planet for mankind, and it's well past time to take better care of it.
The Daily Player's Fanorama store, which features all things tailgating and patio parties, has decided it's high time to do its bit for the cause.
Kjell Sherman, the snarky sports site's Fearless Leader, has announced that from here unto eternity, Fanorama will only offer health-conscious, eco-friendly water bottles.
"Plastic may be popular because it's cheap and reusable, but with most of it ending up in landfills or massive ocean swirls and taking centuries to break down, that's just not cool in the grand scheme of things."
Worse is the fact that advanced studies show — over a shorter period of time than most realize — the plastic itself gradually degrades into the water. This doesn't make much sense to those who are doing their bit for personal fitness.
"Why," Sherman asked rhetorically, "would anyone want to inject contaminants into the process of replenishment?"
That's yet another reason why Fanorama's virtual shelves will only be stocked with water bottles made of much more logical materials like steel and glass. The store may be a tailgater's go-to source for outdoor festivity supplies, but water bottles find their way into every occasion, and party environs are no different.
Water bottles made of stainless steel and/or glass are the ideal choice because they're 100% recyclable material, they're long lasting, and they don't leach chemicals when exposed to the sun or heat. Stainless steel is also corrosion resistant, durable, and can keep water hot or cold.
Yes, they may cost more than plastic, but their prices at Fanorama are still customer-friendly as opposed to most other outlets. That's because The Daily Player believes the best eco-friendly products should be as accessible as commercially possible!
Glass bottles offer clarity of contents after hundreds of washings, and if one is so inclined, dark glass bottles do just the opposite for those who prefer to filter out UV light.
The Daily Player's Fanorama store also features glass bottles that smartly accommodate healthy, taste-enhancing additions such as tea, cucumbers, lemons, and other refreshing natural flavors.
In summary, the dudes at the Daily Player may like to spice up their fare with a bit of sports snark here and there, but their bottom line is providing customers with quality items that can make life more logical and do so at friendly prices.
If you're into good health, environmental awareness, and getting the most out of your hard-earned cash, it'd be worth your while to check out the Sips section at Fanorama:
https://fanorama.daily-player.com/collections/water-bottle
While you're there, feel free to check out the other sections of nifty cool stuff that wouldn't go amiss at your next tailgating or party outing. Odds are your body will thank you, your friends might even appreciate you, and your wallet will definitely be glad you did!
Release ID: 88979124