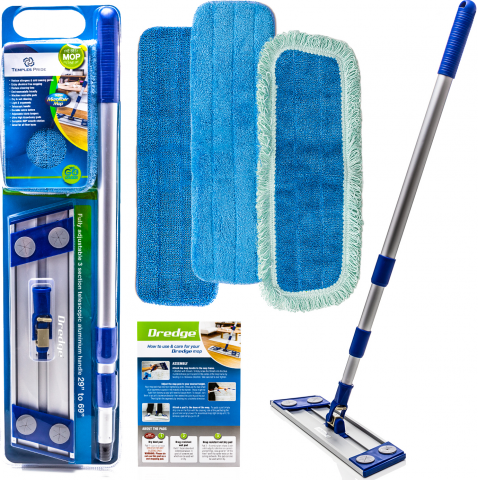 - December 2, 2020 /PressCable/ —
Cleaning the floor on a regular basis helps keep the home fresh and minimize germs on the floor. According to a study done by the United States Environmental Protection Agency (EPA), microfiber mops remove bacteria compared to cotton mops that just move germs around. The study also says that by using a microfiber mop instead of a regular mop and bucket, you are going to avoid the situation where the dirty mop head contaminates your clean water solution.
The floor holds many harmful germs and bacteria that can harm anyone. Whether it is a commercial area or a home, cleaning the floor is one of the most important chores. A study done earlier this year in June by the CDC found that the coronavirus can be carried by shoes.
It is especially more important during these times that we take care to clean not only our countertops and common surfaces properly but also the floor, said Brian from Temples Pride, the creator of the Dredge microfiber mop kit. Many people pay way too much attention to cleaning everything else including groceries, usually going overboard, but when it comes to the floor, they might not put as much attention into it.
The EPA study also went on to say that by switching from a cotton mop to a flat microfiber mop, your mopping results go from a 30% bacteria reduction from cotton to a 99% bacteria reduction with microfiber.
Microfibers are densely constructed, polyester, and polyamide (nylon) fibers that are approximately 1/16 the thickness of a human hair. The density of the material enables it to hold seven times its weight in water, making it more absorbent than a conventional, cotton loop mop.
Also, the positively charged microfibers attract dust (which has a negative charge), and the tiny fibers are able to penetrate the microscopic surface pores of most flooring materials pulling out germs and bacteria at the same time. These characteristics make microfiber an effective mopping material.
Temples Pride has been selling their Dredge microfiber mop kit on Amazon since 2016. Their flat microfiber mop kit has risen to be one of the best selling mop kits in its class.
More information about Temples Pride and their microfiber mop is available on their website below
https://www.amazon.com/Professional-Microfiber-Resistant-revolutionize-Experience/dp/B01AZLM64G
Release ID: 88987629