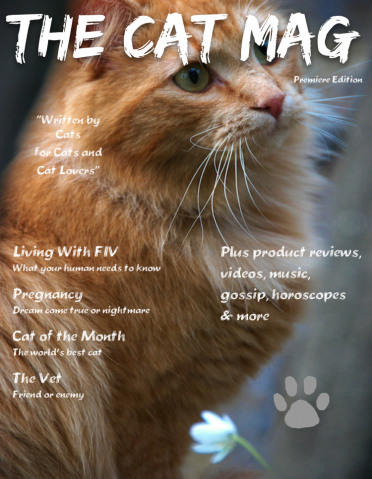 - January 30, 2017 /PressCable/ —
Cats from around the world join together to create an astounding magazine written by cats, for cats and cat lovers!
Frank L. Whiting, founder, publisher, editor, and art director says, "For too long we have given humans the best years of our lives and what have they done for us? (Besides feeding us, brushing us, and paying our vet bills) But that's it! (OK they also give us shelter, and clean our litter boxes) But that doesn't mean they have the right to speak for us! For too long humans have felt they were capable of telling our stories, explaining our needs, understanding our thoughts and describing our behaviours. But, they have never lived our lives! We can no longer just be lap cats for humans! We must take our lives into our own paws! And take charge of our culture." To that end, he created The Cat Mag.
In describing The Cat Mag Frank said, "It provides an opportunity for cats from around the globe to write, report and reflect our lives and culture, free from the bias, control and influence of human writers."
It's no coincidence that many of the greatest writers of the twentieth century were cat lovers – Ernest Hemingway, Mark Twain, Hunter S. Thomson, Doris Lessing, Raymond Chandler, and so many more. One has to ask, how much of their talent was their own? And how much was actually their cat's?
Contributors to The Cat Mag include – Cisco & Herbert (Movie & Video Reviews),
Olivia Ashley-Cooper (Product Reviews), The Divine Mr. D (Horoscopes), Queen Nefertiti (Women's Issues), Ryan Seacat (Music & Entertainment) and more.
"To be competitive in the international market we have to produce a creative multimedia experience while maintaining consistent quality," says Frank L. Whiting. "Our experienced team of cats, drawn from across North America and Europe, will enable us to meet the demands of even the most sophisticated readers and enhance our ability to create a unique publication for cats and cat lovers worldwide."
Available FREE at www.TheCatMag.com/subscribe – The Apple Newsstand, Google Play, Amazon and www.Magzter.com
Release ID: 164850