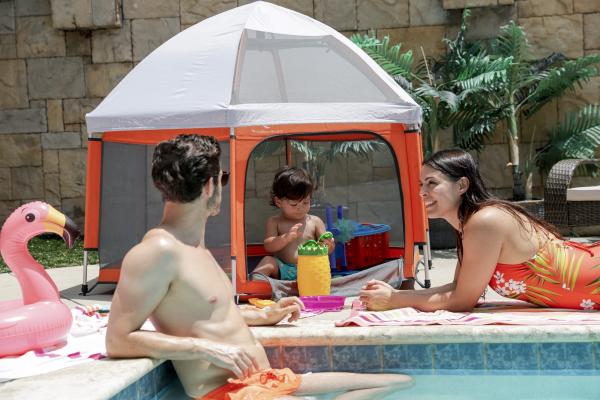 - July 17, 2020 /PressCable/ —
The most durable, compact, lightweight, and portable playpen on the market just made summer that much easier for parents.
Summertime is filled with trips to the beach, picnics outside, and dips in the pool that are basically considered baths by many. Parents all over are shopping The California Beach Co. this summer season due to the extreme convenience and effortlessness of the their signature playpen for children.
With all the summer excitement, parents obviously want to bring their little ones along for the ride. A parent's biggest fear is giving their child access to something dangerous. Oftentimes, summer activities include water or the outdoors. However, there's always the potential for bad scenario when outdoors.
Consumers are finding it harder and harder to be confident that the products they purchase are made of safe, sturdy constructions. It's not just about the construction, but also the materials that make up the construction. The California Beach Co. made it a point to create products that were safe, effective, and practical. So, parents and kids could have fun with peace of mind, always!
"The Pop 'N Go Playpen® was designed to be a child's little clubhouse on the go. Safe and secure, our technology is like no other and the set up is so simple you can have it fully built in a matter of seconds," says CEO and Co-Founder of The California Beach Co. Austin Wright.
Consumers are happily enjoying their summer with products from The California Beach Co. This playpen keeps little ones safe and secure in one of their own Pop 'N Go Playpens® while parents are basking in the sun, swimming some laps, or drinking a few cocktails.
About The California Beach Co.
The California Beach Co. was founded in 2018, and instantly became a Kickstarter and Indiegogo smash hit — raising over $500,000 in the first 30 days of operations. The patented Pop 'N Go Playpen® is widely known as the most lightweight and portable playpen in the world — aiming to serve parents and pet owners by making unique, innovative, and high-quality products that make parenting easier. They have now expanded to multiple eCommerce channels and have their sights set on international expansion to Canada, Australia, Japan, United Kingdom, and more. Click here to shop or learn more.
Release ID: 88968918